Mississippi to begin charging $25 for HIV testing despite high HIV rates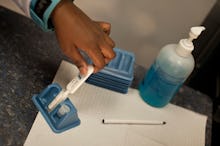 Despite being one of the epicenters of the United States' HIV epidemic, Mississippi is about to make it harder for people to get tested for HIV.
Motivated by budget cuts, Mississippi's state health department will charge a $25 fee for STI and HIV tests at its clinics as of July 1, according to the Clarion-Ledger. Previously, tests were free.
In a statement to Mic, the Mississippi Health Department clarified that two groups of people — people under 18 and people "identified as contacts of an STD or HIV case by disease investigators" — will be exempted from having to pay.
Given the prevalence of HIV and rising STI rates in Mississippi, the forthcoming price hike may be a risk the state can't afford.
HIV and STIs in Mississippi
The city of Jackson, Mississippi, ranks fourth among major U.S. metropolitan areas for per-capita HIV infections, according to the Clarion-Ledger. Four out of 10 gay or bisexual men in Jackson are HIV positive, the highest rate for gay men in the nation.
A recent feature in the New York Times Magazine called "America's Hidden HIV Epidemic" told the stories of gay black men living in the Mississippi city.
This latest move from the state health department coincides with a sharp rise in the number of sexually transmitted infections in Mississippi. In 2013, the state had 290 reported cases of syphilis. That number jumped to 821 in 2016.
According to the Centers for Disease Control and Prevention, gay or bisexual men who are living with syphilis are at higher risk of HIV infection. Additionally, due to structural inequalities like poverty, black gay men are highly vulnerable to HIV infection. A recent CDC estimate said that one in two black gay men could become HIV positive if current trends continue.
Phill Wilson, the president and CEO of the Black AIDS Institute, called the cuts "devastating news" in a phone interview. Citing Trump's 2018 budget, which proposed cuts to HIV treatment dollars, Wilson said Mississippi's cuts are part of a larger trend that may make it harder to fight HIV/AIDS in America.
"If these cuts hold, we're literally abandoning any efforts to end the AIDS epidemic in America and that would be tragic," he said.
HIV testing prevents the virus from spreading
HIV testing is often the first line of defense in stopping transmission of the virus. A person living with the virus who finds out early through testing will be able to access treatment, suppress the virus and become undetectable. Once undetectable, the person is more likely to live a long, healthy life. There's a growing medical consensus that being undetectable reduces the risk of transmitting HIV to negligible or non-existent.
According to the Centers for Disease Control and Prevention's HIV testing search engine, there are fourteen places to get HIV testing in a 10 mile radius of Jackson, and only six places that give "free HIV testing." Four of them are either county or state health departments, which will charge for testing in July, leaving two places to cater to this over-burdened geographical area.
Mic has reached out to the Mississippi Department of Health for comment.
Jun 9, 2017, 2:54 p.m.: This story has been updated with comment from Black AIDS Institute's Phill Wilson.