Reporter Aaron Cantú is facing felony charges after covering Inauguration Day riots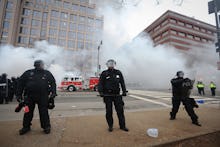 A reporter for a New Mexico newspaper is facing felony charges after he was arrested while covering riots that broke out during Inauguration Day protests.
Aaron Cantú, who now a staff writer for the Santa Fe Reporter in New Mexico, is facing eight felony counts, including inciting a riot and conspiring to riot, as well as charges related to being present during property destruction, the Reporter said Tuesday. A federal grand jury indicted Cantú last week.
Cantú says he was covering the protests when rioting broke out and was not involved in any rioting. He has said he would plead not guilty to the charges, which carry a maximum 75-year sentence.
The charges against Cantú stem from a mass arrest of around 230 people on Jan. 20 after Inauguration Day protests turned violent. Several journalists were arrested during the mass detainment and arrests, and at least six were subsequently charged for felony rioting. The charges against four of the journalists have since been dropped.
Julie Ann Grimm, the editor and publisher of the Santa Fe Reporter, said the paper was aware of the charges when they hired Cantú in April, and that they stand by him.
"I firmly believe that Aaron was there working as a journalist and that he didn't take part in the things he's accused of taking part," she said Wednesday. "Like a lot of people, he was victimized by the mass arrests."
Cantú is one of two journalists who still face charges following the mass arrests in January. Alexei Wood, a photographer who livestreamed the protests, is also facing felony charges that could amount to more than 70 years in prison.
Wood has signed onto a unity pledge pledging not to cooperate with prosecutors or accept any plea deals, BuzzFeed reported Tuesday. He has called the charges "ridiculous."
Requests for comment from Cantú and Wood were not immediately returned.
In February, the Reporters Committee for Freedom of the Press sent a letter to U.S. Attorney Channing Phillips calling for charges against Cantú to be dropped.
"[T]he reason for Mr. Cantú's arrest ... seems to be exactly the same as the other six journalists who have now seen the charges against them dropped," the letter reads. "They were covering protesters and were therefore in the vicinity when a few of those protestors apparently threw rocks or smashed store windows with hammers. But being near a newsworthy event is no crime for anyone, reporters included."
Cantú is scheduled to be arraigned on Friday in Washington.