'The Keepers' Update: Director thinks that Sister Cathy Cesnik's murder can still be solved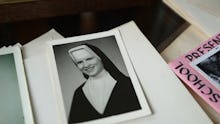 There have been few updates in the investigation of Sister Cathy Censik's murder since Netflix's The Keepers came out, but that may soon change considering the momentum the docuseries has created. According to the Washington Post, Baltimore detectives are "cautiously optimistic" that the public interest in the cold case will lead to some sort of revelation.
Since Father A. Joseph Maskell's DNA from his exhumed body showed he had not been at the scene of the murder, police are going off of accounts and evidence from people who may be connected to those involved in the murder. It may not sound like much, but that hasn't discouraged The Keepers' director Ryan White.
"We never set out to make this film so we can announce who killed Sister Cathy," White said in an interview with Fox News. "However, now that the documentary has been released to the world, I do fully believe now the murder could be solved."
Again, no head-turning evidence has surfaced, but White's docuseries has shown there's great power in average people seeking justice. That's why the Baltimore Police Department created an online reporting forum for sexual offenses like the ones connected to Cesnik's murder.
"We've heard from people who previously hadn't reported their offense," police spokesman T.J Smith told the Washington Post. "We just wanted to streamline the process."
Bringing civilian crime reporting into the 21st century like this not only makes it easier for people to report sensitive information like sexual abuse, but it also helps the detectives keep evidence and sources organized. The form is self-explanatory, and connects potential survivors with information to the corresponding detectives.
"What I noticed within the three years of making this documentary was that there's a lot of confusion and fear by survivors on how they can report their cases," White told Fox News. "But I'm very pleased they created a system that makes it easier, more seamless and safer for women to come forward with their accounts."
Up until now, less than one-third of sexual assault offenders are reported to the police. This easier, more informal reporting method has the potential to change those numbers, and may even lead to information on the identity of Cesnik's murderer.
Mic has ongoing coverage of The Keepers. Check out our main Keepers hub here.