Wednesday's attack in Iran is unusual. Here's why — and here's what it means for the future.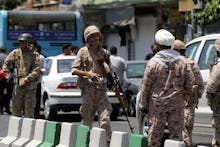 Attackers stormed the Iranian parliament building Wednesday in Tehran, taking hostages and detonating at least one suicide bomb before being killed by Iranian security.
At the same time, another set of attackers opened fire and set off a suicide bomb at the Ayatollah Khomeini mausoleum just outside the city. The Islamic State group claimed responsibility for Wednesday's attacks, which killed a total of 12 people. The violence is a rare anomaly in Iran, and experts say it could represent a turning point in the country's fight against ISIS.
A "unique occurence"
In a phone interview Wednesday, Victor Asal, terrorism and political violence expert and professor at the University of Albany's College of Emergency Preparedness, Homeland Security and Cybersecurity, called the attack a "fairly unique occurrence," adding he did not know of any other ISIS-associated attacks within Iran.
Amid the rise of the Islamic State group, Iran has stayed relatively removed from extremist violence. "In a region plagued by sectarian violence, residents of the Iranian capital have lived in a peaceful oasis," CNN reported Wednesday.
Asal attributed this, in part, to the heavily militarized Iranian government. It's "a fairy militarized state, they've got a lot of security personnel all over the place," he said.
According to Maria Haberfeld, professor of police science at the John Jay College of Criminal Justice, Iran's repressive government is part of what helps insulate the country against terror.
Iran has "a reputation of an extreme state that has no concerns for human rights," Haberfeld told Mic in a phone interview. "... In that sense, it is sort of a deterrent [to terrorists]."
But terrorists shattered the relative security of Tehran on Wednesday by attacking two of its most symbolic sites in a move designed to provoke a response.
The meaning of Wednesday's attack
Terrorists likely chose the Ayatollah Khomeini mausoleum and the Iranian parliament because of the deep meaning they hold in Iran.
"To attack two main targets that have significance ... it's a big 'go to hell' to the Iranian people," Asal said, explaining that Iranians are "very proud" of the country's parliamentary system, one of the region's only Democratic systems. And the Ayatollah Khomeini mausoleum is a "holy site," Asal added — attacking it symbolizes an attack on Khomeini himself.
"Basically it's like attacking the Capitol [Building] and the Lincoln Memorial," Asal said.
However, Iranian politicians appeared to downplay the significance of Wednesday's attack, CNN reported.
"As you know, some coward terrorists infiltrated a building ... but they were seriously confronted," Ali Larijani, speaker of the Iranian parliament, said in a statement, adding that the attack was a "minor issue." The question now is how Iran will respond to what seems to be a direct attack by ISIS.
What will the fallout be?
The Shia-majority Iran has long been engaged in the fight against ISIS, which Asal said characterizes Shia Muslims as "apostates" who must be punished. Until now, that fight has mostly happened in Syria and Iraq, where Iran has funded Shia militias.
However, both Asal and Haberfeld agreed that Wednesday's violence could likely lead to an extreme response from Iran.
Iran and ISIS have "had a longstanding hostile relationship, and this is going to exacerbate that on the Iranian side," Asal said. "In terms of stepping up their attacks against ISIS, this is definitely going to happen."
Meanwhile, Haberfeld described Wednesday's attack as "almost a statement of war on the part of ISIS to Iran" and said it could represent a major turning point in Iran's international role in fighting ISIS.
"It ushers in a new era," she said.