'Tekken 7' Kazumi Combos: Here's how you can be badass with a tiger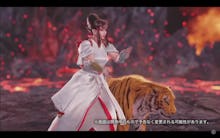 Kazumi Mishima from Tekken 7 is fantastic. Her outfit is bomb and she fights with a literal tiger — what more could you want? If you're trying to get better with Kazumi — because why wouldn't you — we have the combo guide for you.
Tekken 7 Kazumi combos: How to master her fighting style
To start, you're going to need to learn to speak the language of Tekken 7. Here is a table that translates each letter of a combo into the corresponding move.
The move itself will depend on how you're playing the game, but if you just mess around with your controller, it should be easy to figure out.
Now with that information, you're going to need to learn the specific combos. There are a few ways to absorb this information. If you prefer learning through text, SegmentNext and EventHubs both have posts on Kazumi. If you prefer video, here's a pretty great one.
More Tekken 7 tips, tricks and guides
Ready to take your Tekken 7 game to the next level? Check out our official review, along with a piece arguing that Tekken 7 is a terrible introduction to fighting games. Then read up on the full character roster, tier list rankings, how to unlock every fighter and some juicy DLC rumors.