How to block texts while driving on iPhone: Using iOS 11's Do Not Disturb While Driving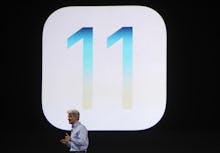 Your iPhone might just save your life.
At Apple's Worldwide Developers Conference at San Jose, California, on Monday, the tech giant introduced a new feature for iOS 11, the latest operating system for iPhones and iPads. The feature, called "Do Not Disturb While Driving," withholds notifications while you're behind the wheel.
Here's what the Do Not Disturb While Driving feature does and how to block texts while driving on your iPhone.
How to block texts while driving on iPhone: Here's how Do Not Disturb While Driving works
When you turn on Do Not Disturb While Driving, the iPhone can recognize when you are driving — using Bluetooth and Wi-Fi doppler effect to measure when you're moving in a car — and your handset will automatically mute your notifications. All your alerts for emails, texts, tweets and Snaps will be temporarily gone.
There is also an option to send an automated reply, notifying your contacts that you're driving and that you'll respond later. What's more, users can customize certain contacts to be un-muted. According to Apple's senior vice president of software engineering, Craig Federighi, this allows users to "have the peace of mind that you can get contacted."
And if you're a passenger, there is the option to override the feature. This also means drivers can technically override the safety feature as well, providing users with a loophole to engage in the risky behavior of texting while driving.
How to use Do Not Disturb While Driving on iOS 11
To use Do Not Disturb While Driving, you have to add it to your device's Control Center. Do this by going to Settings and Control Center and then select the Do Not Disturb While Driving to include it to your iPhone's Control Center. Once the feature is activated, the iPhone can sense when you're driving and mute your notifications.
How to silence your device while driving without iOS 11
If you want to stay safe before you can download iOS 11, you can stow your device where its out of reach or you can fully mute your notifications by putting your device on AirPlane Mode when hitting the road. For those who use their smartphone as a GPS, you can activate the Do Not Disturb mode by going to Settings, Do Not Disturb, and toggling the button next to Manual.
"When Do Not Disturb is enabled calls and alerts that arrive while locked will be silenced, and a moon icon will appear in the status bar," Apple writes within the device.