The 5 biggest questions facing James Comey ahead of his testimony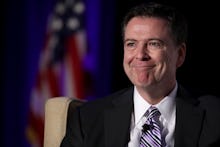 Former FBI Director James Comey's prewritten statement dropped like a bombshell ahead of his scheduled testimony before the Senate Intelligence Committee at 10 a.m. Eastern on Thursday, after which he will take questions from senators.
The testimony confirmed media reports that Comey felt pressured by President Donald Trump to end his investigation into former national security adviser Michael Flynn. On Wednesday morning, four top U.S. intelligence officials dodged questions regarding their conversations with Trump about the Russia investigation. Their testimony is expected to have little impact on what Comey will be asked.
Here are the five biggest questions Comey could face as he testifies Thursday:
1. What prompted Comey to start recording his conversations with Trump?
Comey wrote in his testimony that he kept written records of nine one-on-one conversations with Trump between January and April, a practice he did not employ under former President Barack Obama.
2. Why didn't Comey report the conversations as they happened?
The then-FBI director said he circulated memos documenting his conversations with the president among his senior staff. Comey may face questions about why he didn't go to others, including lawmakers, with the information.
3. Did the president obstruct justice?
Comey is not expected to make any legal assessment during his hearing, but it's still likely a Democrat will ask him this question in an effort to determine Trump's intentions behind asking Comey to end the investigation into former national security adviser Michael Flynn — something Comey is no longer in a position to do.
4. Comey told the president in March he was not "personally" under investigation. Could that change?
It has been about a month since Trump fired Comey. The former FBI director could be asked to explain whether it's possible Trump personally is now under investigation or could be under investigation on in the future. Comey could also rule out ever having investigated the president personally.
5. Did the president talk to other officials about stopping the investigation?
The four intelligence officials who testified Wednesday wouldn't say whether Trump pressured them to stop investigating Flynn. Senators could ask Comey whether he was aware of Trump pressuring other officials in the way he pressured him.