'America's Got Talent' 2017: Watch deaf singer Mandy Harvey get the golden buzzer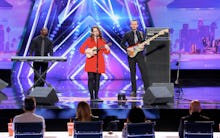 One of the most moving moments in America's Got Talent history is thanks to 29-year-old singer-songwriter Mandy Harvey, who wowed the judges Tuesday with an original, heartbreaking composition, "Try." The kicker: Harvey is deaf.
Harvey lost all hearing at 18 years old due to a connective tissue disorder. But that hasn't stopped her from pursuing her dreams of becoming a singer.
"I've been singing since I was 4," Harvey explained. "I left music after I lost my hearing and then figured out how to get back into singing with muscle memory, using visual turners and trusting my pitch."
Harvey, tapping her foot on the floor to feel the tempo, brought judges Mel B., Heidi Klum, Howie Mandel and even Simon Cowell to their feet with her performance. She explained that "Try," which she accompanied with a ukulele, is about wanting to do more with life after feeling the need to give up. An interpreter signed the lyrics as Harvey performed.
Cowell happily gave Harvey the Golden Buzzer and sent her through to the show's live rounds.
"I've done this a long time. That was one of the most amazing things I've ever seen and heard," Cowell said.
Watch Harvey's performance below:
Harvey has also performed on NBC Nightly News, Canada AM and The Steve Harvey Show. According to her website, she is also an ambassador to both No Barriers USA and Invisible Disabilities Association as a way "to encourage, inspire and assist others to break through their personal barriers."
America's Next Top Model cycle 22 winner Nyle DiMarco, who is also deaf, was quick to congratulate Harvey on her Golden Buzzer moment.
Harvey tweeted Wednesday about the fan love she has received since her appearance on the show.
Mic has ongoing arts coverage. Please follow our main arts hub here.