3 key takeaways from Wednesday's Senate hearing with U.S. intelligence officials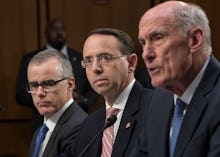 Four top intelligence community leaders testified before the Senate Intelligence Committee on Wednesday in a hearing that grew uncomfortably testy at times, as all four witnesses dodged questions about their interactions with President Donald Trump related to the Russia investigation.
Deputy Attorney General Rod Rosenstein, Director of National Intelligence Dan Coats, National Security Agency Director Adm. Michael Rogers and Acting FBI Director Andrew McCabe all refused to say whether they or others they knew of were asked by Trump to end the Russia investigation — despite intense prodding from Senators on both sides of the aisle.
The four witnesses had come before the committee to discuss the Foreign Intelligence Surveillance Act — the program some in the Trump administration accused intelligence community officials of abusing in order to improperly "unmask" Trump campaign officials.
But the hearing quickly moved to the witnesses' interactions with Trump, after the Washington Post had reported the night before the hearing that Trump asked Coats to convince Comey to end the Russia investigation.
The Washington Post also reported that Trump asked Coats and Rogers to deny that there was any evidence proving coordination with Russia. Both men denied Trump's request, according to the Washington Post.
But neither Coats nor Rogers addressed that report, which led to some tense moments at the hearing.
Here are three key takeaways from Wednesday's hearing.
1. No one is willing to say Trump asked them to end investigations
All four intelligence chiefs were asked multiple times by multiple committee members from both sides of the aisle whether Trump directly asked them to intervene in the Russia investigation.
None were willing to say.
All gave vague answers about never feeling pressured by Trump to do anything they felt was inappropriate, but none would definitively say whether an ask was, in fact, made.
After multiple refusals to comment on their interactions with Trump, Sen. Angus King (I-Maine) got visibly angry, asking whether the White House had invoked executive privilege — a legal protection the president is granted that would allow him to place a gag order on anyone that prevents them from publicly divulging private conversations.
While none of the four witnesses said the Trump White House invoked executive privilege, they still said they wouldn't publicly reveal their private conversations.
That led King to angrily shoot back, "I don't understand why you're not answering our questions."
"I come out of this hearing with more questions than when I went in," Sen. Mark Warner (D-Va.), the Senate Intelligence Committee's vice chairman, said.
2. Republicans are starting to grow frustrated with the lack of answers to news reports
At previous hearings, Senate Republicans were more focused on leaks than they were on the FBI investigation into the Trump campaign's alleged ties to Russia.
However on Wednesday, multiple Republicans on the committee grew frustrated when the intelligence officials would not answer their simple yes or no questions about whether the bevy of media reports on their interactions with Trump were true.
That includes Sens. Marco Rubio and John McCain, who both grilled the witnesses with just as little success as their Democratic counterparts.
It's a sign Republicans are growing increasingly frustrated with the swirling controversy around the investigation.
3. If James Comey's hearing goes like this one, many will be very disappointed
Wednesday's hearing preceded former FBI Director James Comey's Thursday testimony before the same committee, in which Comey is expected to address the events leading up to his firing at the hands of Trump.
Comey's Thursday testimony in perhaps the most anticipated since Hillary Clinton's 11-hour Benghazi hearing in 2015.
Bars in Washington are opening early to allow patrons to imbibe while watching Comey get grilled, with at least one bar offering to buy a round of drinks on the house every time Trump tweets about Comey's testimony.
The White House did not invoke executive privilege, so Comey is allowed to speak publicly about their private conversations — in which Trump is accused of asking him to end the FBI investigation into former National Security Adviser Michael Flynn.
The lack of answers from the four witnesses Wednesday raise the stakes for Comey's hearing.
Senators from both parties are eager to get answers on the multitude of media reports about Trump's interactions with law enforcement and intelligence community officials.
If Comey dodges the way the four witnesses did on Wednesday, many will be disappointed.