Lauren Graham's against another 'Gilmore Girls' revival — but she's a writer now, so that's cool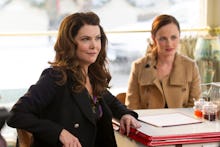 Despite a mixed bag of reviews, Netflix's revival of Gilmore Girls, entitled Gilmore Girls: A Year in the Life, may be destined for a second season. The revival did exceedingly well, so of course the show's producers are eager to keep it going.
However, even its most diehard fans who, for the most part, appreciated what the revival brought to the TV table, don't think it needs another installment.
As it turns out, Lauren Graham, the show's star, is one of them.
According to an interview with Indiewire, she was so satisfied with the closure the revival brought her character that she thinks perpetuating the story would be a mistake.
"Just as an experience, it was kind of perfect," Graham told Indiewire. "I always said, while we were doing it, that I couldn't see more episodes in that form. Five years from now do you have A Very Gilmore Christmas? Maybe, but there's no reason anymore except enjoyment. And, actually, I think there's far more risk to continue — you run the risk of disappointing people."
That said, neither she nor her co-star and TV daughter, Alexis Bledel, have given a definitive "no" to the idea of a second installment. However, Graham's fear that they might "overstay [their] welcome" is legitimate. Series that extend past their prime aren't always appreciated in the end.
So what does Graham plan to do with her time if Gilmore Girls is really and truly over? The same thing she's been doing for a while now: write.
Believe it or not, she's already written two books. One's called Someday, Someday, Maybe, and it's about a young actress struggling to make it in New York City. It's not autobiographical, but obviously, with Graham being an actress and all, it's safe to presume there's a lot of herself in there. The book, which came out in 2014, is a New York Times Bestseller, and has received some seriously glowing reviews.
The second is called Talking as Fast as I Can and is also a New York Times Bestseller. This one is autobiographical; it's a collection of personal essays reflecting on Graham's life.
But penning books isn't all that's on Graham's writer plate. She's also taken to screenwriting, and is currently adapting Heather Cocks and Jessica Morgan's novel, The Royal We, along with her Parenthood co-star Mae Whitman. It's a fairytale romance about a girl who goes to Oxford and falls in love with an actual prince.
Graham says she thinks the world needs more romantic comedies, especially now that dystopian dramas are flooding entertainment streams.
"I just don't like watching zombies kill each other," Graham told Indiewire. "I see how much the new Gilmore Girls has meant to the people who loved it, and I feel even more strongly that I want to be a part of things like that."
Mic has ongoing Gilmore Girls coverage. Follow our main Gilmore Girls hub here.