James Comey Testimony: What to know and what to expect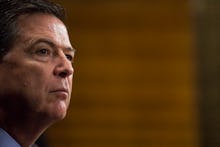 Former FBI director James Comey is set to testify before the Senate Intelligence Committee at 10 a.m. Eastern on Thursday.
President Donald Trump's firing of Comey in May received intense scrutiny. It was alleged that the president pressured the former FBI director to end the investigation into former National Security Adviser Michael Flynn, and that he didn't want further investigation into alleged ties to Russia.
Deputy press secretary Sarah Huckabee Sanders confirmed during a White House briefing that the president will not be invoking executive privilege, allowing Comey's testimony to move forward Thursday without incident.
Washington Post national political reporter Robert Costa revealed on Twitter that sources suggested the president may livetweet the Senate Intelligence Committee hearing.
Here's what to expect from Thursday's testimony.
Comey will not openly suggest Trump obstructed justice
Multiple sources contacted by ABC News said Comey will not make any direct claim about Trump's interactions with him amounting to obstruction of justice. Comey is said to believe that such an assessment is best left to investigators and the special prosecutor.
According to ABC News, Comey has been "reflecting on events that have happened since his firing," including the president's comments about his alleged incompetence and Trump's reported description of Comey as a "nut job" with Russian Foreign Minister Sergey Lavrov.
Lawmakers likely to press Comey on discomfort with meeting Trump privately
A Tuesday report from the New York Times may take center stage at Thursday's hearing.
The report revealed a confrontation between Comey and Attorney General Jeff Sessions in which the former FBI director told Sessions that he did not believe it was appropriate for him to be alone with the president.
Comey thought that Sessions, as head of the Justice Department, had a responsibility to ensure the FBI's independence from the White House.
Current and former law officials told the Times that Comey's reluctance to be alone in a room with the president reflected a deep distrust of Trump specifically, as evidenced by the fact he met alone with President Barack Obama on at least two occasions.
Comey will be asked to detail interactions with the president
Comey has a longtime reputation of meticulous note-taking, dating back to the administration of President George W. Bush. The New York Times has reported on memos written by Comey that detail his personal interactions with Trump.
Lawmakers want to know more about what's contained in the unreleased memos and figure out the nature of Trump's interactions with the fired FBI director.
Allegations from a New York Times report that the president attempted to coerce Comey during a private dinner into pledging loyalty are likely to be a focus of questioning in discussions about personal interactions with the president.
Russia investigation questions won't be answered
Due to the ongoing Justice Department investigation into the possible ties between Russia and Trump, Comey is not expected to answer any questions that could interfere with that investigation.
Politico reported that Comey spoke with special counsel Robert Mueller's team about the upcoming hearing.
"Mueller won't be surprised" by Comey's testimony, a friend of Comey's told the outlet, referring to the two being on the same page about what the fired FBI director will reveal publicly.