'Elder Scrolls Online' Morrowind Armor Sets Guide: What you need to know about new clothing in 'ESO'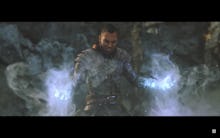 Morrowind is finally available for Elder Scrolls Online — and with it new item sets. Perhaps the most important set is the armor sets, because who doesn't want to have nice clothes?
Here are the armor sets new to Morrowind
There are three new armor sets in Morrowind, each of which have pretty awesome bonuses. Each set gives you a bonus depending on how many items you have from that set. A page on the Elder Scrolls Online wiki laid it all out:
Assassin's Guile:
(2 items) Adds 688 Spell Critical.
(3 items) Adds 688 Weapon Critical.
(4 items) Adds 129 Spell Damage and Weapon Damage.
(5 items) Increases the duration of your alchemical poisons by 4 seconds.
Shacklebreaker:
(2 items) Adds 129 Weapon Damage.
(3 items) Adds 129 Spell Damage
(4 items) Adds 129 Magicka Recovery and Stamina Recovery.
(5 items) Adds 2000 Max Magicka and Max Stamina.
Daedric Trickery:
(2 items) Adds 1064 Max Health
(3 items) Adds 967 MaxStamina
(4 items) Adds 967 Max Magicka
(5 items) While in combat you gain one of five random Major Buffs for 10 seconds every 20 seconds. Eligible buffs are Expedition, Protection, Mending, Heroism or Vitality.
More gaming news and updates
Check out the latest from Mic, like this essay about the sinister, subtle evils lurking in rural America that Far Cry 5 shouldn't ignore. Also, be sure to read our review of Tekken 7, an article about D.Va's influence on one Overwatch player's ideas about femininity and an analysis of gaming's racist habit of darkening villains' skin tones.