How to screen record on iOS 11 and show off exactly what's happening on your iPhone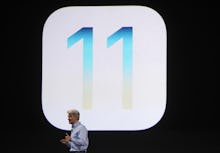 When Apple introduced iOS 11, the operating system for iPhones and iPads, at Monday's Worldwide Developers Conference in California, the tech giant highlighted all the new features coming this fall. Along with features that keep you off your iPhone while driving and a new dark mode for nighttime use, the tech giant is rolling out a screen capturing tool to make it easier to record videos of your iPhone's screen.
Reddit users with access to the developer-only beta of the new operating system uncovered the screen capturing tool, Gizmodo reports. The tool can even secure a spot in the new customizable Control Center.
To add the Screen Recording feature to the Control Center, go to Settings and Control Center. Here, select on the Screen Recording option to activate the feature and put it in your device's Control Center.
To start using the tool, go to your Control Center and click the corresponding icon. This will immediately start recording what you do on your phone. A blue bar at the top will let you know how long you've been recording by showing a time stamp. After you stop recording, you can edit your footage and make annotations.