Donald Trump's approval falls to new low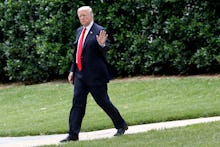 President Donald Trump's approval rating fell to a new low on Wednesday, after Quinnipiac University released a poll finding just 34% of voters approve of the job he's doing.
That 34% approval rating is down three points from Quinnipiac's May 24 poll, and is the lowest Quinnipiac has recorded since Trump took office on Jan. 20.
Even more, the number of voters who "strongly approve" of Trump also fell to 25%, compared to the 51% of voters who "strongly disapprove" of the job he's doing in office.
The strong numbers represent an "enthusiasm gap." That means voters who disapprove of Trump are more likely to be passionate about that disapproval, while voters who approve of Trump are not as likely to be passionate about that approval.
Trump's approval rating slide comes as he faces a host of bad news regarding the FBI investigation into his campaign's alleged ties to Russia, as well as his decision to withdraw the United States from the Paris climate agreement — which 62% of voters disapprove of, according to the Quinnipiac poll.
"There is zero good news for President Donald Trump in this survey, just a continual slide into a chasm of doubt about his policies and his very fitness to serve," Tim Malloy, assistant director of the Quinnipiac University poll, said in a news release.