3 key takeaways from day 3 of the Bill Cosby sexual assault trial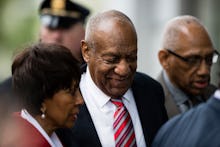 Day three of the Bill Cosby trial kicked off on Wednesday with a resumption of the cross examination of Andrea Constand, the woman whose allegations first landed the 79-year-old comedian in court.
On Tuesday, Constand — Cosby's primary accuser — had broken her ten-plus-year, settlement-mandated silence, telling the court that, when her then-mentor invited her to his suburban Philadelphia home in 2004, Cosby promised career advice, but instead gave her three blue pills that caused her to lose control of her limbs and, ultimately, to black out. Constand, now 44, testified that she "jolted awake" to Cosby fondling her breasts and genitals.
"In my head, I was trying to get my hands to move or my legs to move, but I was frozen," Constand said, according to the Hollywood Reporter. "I wasn't able to fight in any way."
Also on Tuesday, the court heard from the mother of Kelly Johnson, the only one of Cosby's nearly 60 accusers allowed to testify at his trial. Joseph Miller, a lawyer who witnessed a decades-old deposition in which Johnson alleged Cosby had drugged and molested her, also took the stand.
Here are the big moments from Wednesday's proceedings:
1. Cross-examination of Andrea Constand hones in on deposition discrepancies
Attorney Angela Agrusa had lain the groundwork for a more intensive cross-examination on Wednesday by starting off the questioning of Constand on Tuesday, as Deadline reported, with "a far less aggressive tone" than has been the case so far. Wednesday, the defense focused largely on alleged inconsistencies in Constand's account.
At trial, Constand has maintained that Cosby sexually assaulted her in January 2004 but, according to the New York Daily News, when she originally came forward in January 2005, she said the date "may have been March 16, 2004" in a police report. Later, she placed the timeframe "between mid January and mid February 2004." On Wednesday, Agrusa combed through Constand's phone records for March 16, accusing her of placing a lot of calls for someone who was incapacitated. "You changed your story," Agrusa accused her. According to the Daily News, however, Constand remained calm and collected throughout.
On Tuesday, when Agrusa first began probing the alleged timeline, Constand told her that she "was having to recall a lot of facts" when she initially reported the incident in 2005. "It was very overwhelming," she said, according to People. "There was a lot of confusion trying to put a lot of the dates together."
2. Defense suggests Constand and Cosby had a romantic relationship
According to Fox, Agrusa also made repeated, pointed suggestions about a romantic relationship between Cosby and Constand, who is a lesbian and was dating a woman at the time of the alleged assault.
On Tuesday, Constand had testified that Cosby had previously made passes at her, passes she rebuffed. "I'm not here for that, I don't want that," she allegedly told him on one occasion, where he tried to unbutton her pants. Still, she said, Cosby's advances didn't tarnish what she saw as a friendship.
"I trusted him," she said Tuesday, according to Jezebel. "I wasn't scared of him in any way."
On Wednesday, according to Philly.com, Agrusa pummeled Constand with questions about the pricey gifts that Cosby had allegedly given her and whether or not she had changed her appearance in response to suggestions from him. Constand admitted she had told a friend about Cosby's "suggestive" comport, but maintained that his past actions did not make her think he wanted anything other with a friendship with her.
"I did say that … he had been suggestive," Constand said, according to Philly.com, "but what I'm saying is Mr. Cosby never disclosed to me that he was interested in a romantic interaction with me."
Agrusa also pointed out that Constand had called Cosby "with a lot of frequency" after the alleged assault, and that she had on one occasion brought him bath salts, the New York Times reported. Constand countered that she "may have been returning phone calls," and that she'd given him the gift on behalf of a friend.
3. Cosby enjoys more support from former costars
Cosby arrived to the Montgomery County Courthouse in Norristown, Pennsylvania, on the arm of former coworker Sheila Frazier on Wednesday, according to TMZ.
Cosby's reportedly feels abandoned by many of his celebrity friends, who he feels have distanced themselves since the wave of allegations against him broke in 2015. Yet Frazier, who starred with Cosby in 1978's California Suite and is married to Cosby's hairdresser, is the second of the 79-year-old's former coworkers to escort him into court this week.
On Monday, the first day of the trial, Keshia Knight Pulliam — who played Rudy Huxtable on The Cosby Show — walked Cosby into the courthouse. Pulliam has previously expressed support for her former TV dad, saying in 2015 that she couldn't pass judgment on the allegations against him, which numbered just 28 at the time.
"Ultimately, I wasn't there," Pulliam said. "So I can't really speak to what transpired, I can only speak to the man I know. And he was an amazing, philanthropic, inspirational guy who always treated me very well … He's done a lot, in general."
Follow Mic's coverage of the Bill Cosby trial in our main hub here.