The best Snapchat hacks of 2017 will take your snap game up a notch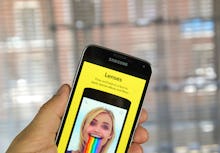 If you're an avid Snapchat user, improve your Snapchat use this year by learning some new tips and tricks about how to best use the platform. Using up too much data? There's a tip for that. Want to make a sticker of your mug? There's a way to do that.
Save mobile data usage
Snapping while traveling can be problematic, especially if you're in an area with an unreliable internet connection. To save data, turn on Travel Mode — this ensures you only load content when you tap, thus saving mobile data. To turn Travel Mode on or off, open your app, click the Snapchat icon at the top of the camera screen, then select the wheel icon on the right hand corner and select Manage. Here you can toggle to turn the mode on or off.
Link your Bitmoji account
If you have a Bitmoji, know you can link it to your Snapchat account so you can send your personal avatar whenever you please. Make your Bitmoji on the app, then open up the Snapchat app, go to Settings, tap Bitmoji and select the Link Bitmoji button. Then allow the app to use your existing Bitmoji avatar.
Make your own custom stickers
Sometimes an emoji or pre-existing Sticker just doesn't cut it. Make your own sticker using Snapchat's scissors tool. All you have to do is take a photo, click the scissors icon, use your finger to outline the area you want to turn into a sticker and lift your finger. The object will be saved as a sticker for future use.
Use Snapchat without Wi-Fi or data
Even if you're going without any connection, you can still preserve your snaps. One option is to take pictures and videos from your handset and upload from your Camera Roll at a later time. Or you can save to Memories and upload when you have access to the internet. You can also intentionally send a snap or add it to your story and let it fail, then hit Retry once you're connected.
Shazam a song
Hear a song you want more details on? You can Shazam tunes directly within the Snapchat app. Press and hold on the camera screen and, if the song is recognized, a pop-up will appear. Tap on "Song Info" to get a full-screen summary of the song. You can swipe in an upward motion to listen to an excerpt, read lyrics or watch the music video. And if you're in a rush, know that all songs you Shazam will be saved in your Snapchat app's Settings.