Women are just 43.6% away from gender parity on the Fortune 500 list, baby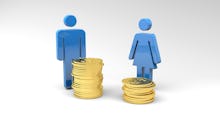 On Wednesday, the latest Fortune 500 list was unveiled, and female CEOs make up a whopping 6.4% of it. Women of color make up just 0.4%. How marginally far we have come!
It's important to celebrate milestones: This is the most women in leadership ever for the Fortune 500, which has been compiled and released since 1955. Last year, women held only 21 of the top slots. That was actually a drop from 2015, which featured 24 women-led companies.
As Fortune noted, the companies ranked "represent two-thirds of the U.S. GDP with $12 trillion in revenues, $890 billion in profits, $19 trillion in market value, and employ 28.2 million people worldwide."
With money comes power, and with power comes influence. And as is evident in the latest definitive ranking, those with the most influence right now are predominantly white and male.
It's not just important to diversify the tippy top of these corporations out of principle — studies show that more equal representation in higher ranks leads to better financial results. And that's good news for everyone.
Correction: June 28, 2017