James Comey to testify Donald Trump asked him to "lift the cloud" of the Russia investigation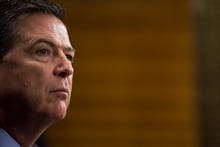 Former FBI Director James Comey will tell the Senate Intelligence Committee on Thursday that President Donald Trump asked him to end an investigation into former national security adviser Michael Flynn, as well as to "lift the cloud" of the Russia investigation.
Comey is prepared to make those comments in his opening remarks before the Senate Intelligence Committee, which published Comey's prepared statement on its website Wednesday afternoon.
In his opening statement, Comey will say he had "nine one-on-one conversations with President Trump in four months" — and outlines five of those conversations he says "may be relevant."
In one of the conversations, Comey will confirm that Trump asked him to drop the investigation into Flynn, saying that Trump said, "I hope you can see your way clear to letting this go, to letting Flynn go. He is a good guy. I hope you can let this go."
Comey will add that he told Trump that he "is a good guy" but did not say he would let the investigation go.
He will also detail a conversation in which Trump asked Comey in a phone conversation March 30 to help "lift the cloud" of the Russia investigation.
"He said he had nothing to do with Russia, had not been involved with hookers in Russia, and had always assumed he was being recorded when in Russia. He asked what we could do to 'lift the cloud,'" Comey will say in his testimony.
"I responded that we were investigating the matter as quickly as we could, and that there would be great benefit, if we didn't find anything, to our having done the work well. He agreed, but then re-emphasized the problems this was causing him."
In all, Comey's prepared testimony will confirm much, if not all, of the reporting on Comey's interactions with Trump in the months preceding Comey's abrupt firing in May.
That includes the report that Trump demanded "loyalty" from Comey in a dinner on Jan. 27.
"The President said, 'I need loyalty, I expect loyalty,'" Comey will recall in his testimony, the details of which he says he wrote down in memos after conversations with Trump. "I didn't move, speak, or change my facial expression in any way during the awkward silence that followed. We simply looked at each other in silence. The conversation then moved on, but he returned to the subject near the end of our dinner."
June 7, 2017 3:08 p.m.: This article has been updated.