'Diablo 3' Season 11 Start Date: Here's when the next season will begin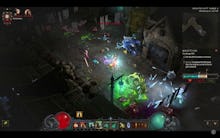 Everyone loves earning new gold and gear — it's a big incentive for plenty of video games. Diablo 3 season 10 recently ended, and everyone's wondering when they'll be able to get back into it and earn new stuff. Luckily, we have the official announcement for what day Diablo 3 season 11 will start, but the exact time depends on your location.
Diablo 3 season 11 start date: When does it begin in your region
Here are the details, according to the official blog post on Blizzard's website:
North America: Thursday, July 20 at 5:00 p.m. PDT 
That means you still have a couple weeks left before the next season kicks off. In the meantime, if you haven't already, check out the new Necromancer class for another fun addition.
Diablo 3 season 11 start date: What to expect
Here's a quick rundown of everything you can expect to see once Diablo season 11 kicks off, courtesy of Diablo Fans:
Seasonal Conquests:
• Avarice and Avaritia are back again.
Haedrig's Gift:
• Completing chapters two, three, and four of the Season Journey will reward you with three Haedrig's Gifts.
Just as before, you'll get a shiny new Class Set courtesy of Haedrig's Gift for completing certain chapters in the Season Journey. We've listed the available Sets below.
Here are the sets granted by Haedrig's Gift in season 11:
• Barbarian – Wrath of the Wastes
More gaming news and updates
Check out the latest from Mic, like this essay about the sinister, subtle evils lurking in rural America that Far Cry 5 shouldn't ignore. Also, be sure to read our review of Tekken 7, an article about D.Va's influence on one Overwatch player's ideas about femininity and an analysis of gaming's racist habit of darkening villains' skin tones.