Kit Harington put on spot to propose to Rose Leslie in awkward 'Late Late Show' video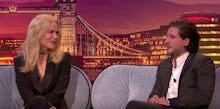 Nicole Kidman may not like being asked to divulge intimate information about herself, but she has no problem whatsoever requesting it from others. This weird moment occurred on Tuesday night's The Late Late Show With James Corden which featured Kidman and Game of Thrones star Kit Harington. After Corden asked her a sensitive question — which she refused to answer — she decided to ask Harington an arguably even more sensitive question about his relationship with former Game of Thrones star Rose Leslie.
Corden asked Kidman to reveal what her husband Keith Urban whispered to her in an obviously intimate moment at the 2017 Cannes Film Festival. She declined, but then quickly refocused the attention on Harington after they started talking about how he recently moved in with his girlfriend Leslie.
What results is a terribly awkward moment in which Kidman asks the question that makes most couples shudder — "are you going to get married?"
Watch the embarrassment unfold all over Harington's face in the clip below.
Everyone who's ever been close to getting engaged feels your pain, Kit. Now, most people would back off after seeing the look that came over Harington, but Kidman kept going.
"No I just think it's kinda nice, if you're going to live together, maybe to at least get engaged," she continued.
Jeeze, Nicole. He probably gets enough of the third degree from his mom, he doesn't need any more of it, especially not in front of a live studio audience.
Harington could barely formulate words afterward, except to say, "I'm being put on the spot by Nicole Kidman." He then gave the only type of answer one can in moments like these — a vague one.
"It's step by step. Step by step," he said.
Well played, sir.
In the end, Kidman's attempt to divert attention away from her certainly succeeded, but she probably lost her chance to receive an invite to the Harington-Leslie wedding, if it ever happens.
Mic has ongoing coverage of The Late Late Show. Follow our main Late Late Show hub here.