IOS 11 Bugs: The most annoying problems with the iOS 11 beta so far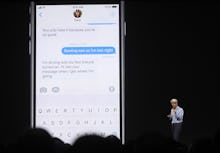 If you're thinking about updating your iPhone to the latest operating system — Apple's just-announced iOS 11, available in a developer beta only — you might want to wait until Apple works out these bugs first.
We've had iOS 11 for a day now, and we've already gathered a litany of complaints. Fortunately, they seem like easy fixes; the beta is always buggier than the public release. Some problems, however, look like purposeful omissions. Apple, hope you're reading.
IOS 11 bugs: 3-D Touch no longer brings up the app switcher on the left side of the screen.
Easy app switching using 3-D Touch is one of my favorite hidden features in iOS 10: You can 3-D Touch the left edge of the screen and quickly swipe right, revealing the last app you were using. In iOS 11, it's gone. You'll just have to double-push the home button and swipe through. Sad!
This is likely a feature, not a bug. But forcing users to rely on the home button in iOS 11 is strange; the upcoming iPhone 8 will probably do away with that button altogether, according to new reports.
IOS 11 bugs: You can't turn off Bluetooth from the Control Center.
This is annoying. Tap all you want — the easy Bluetooth toggle won't turn on. This is definitely a bug.
IOS 11 bugs: Not everyone has the new Siri voice yet.
At WWDC 2017, Apple promised a new, more natural-sounding and more sophisticated Siri voice — but it has yet to appear on our writer's iPhone 7 Plus. On Reddit, one user said you have to switch to the male Siri voice and back to let the new Siri download. Reader, we tried it; it failed.
IOS 11 bugs: The home screen is gone from the app switcher.
Double-tapping the home button in iOS 10 brings up your most recently used apps, including the home screen. In iOS 11, the home screen is no longer an option to switch to. There's a workaround, though: Just tap the right edge of the screen when switching apps. It's a shortcut to the home screen.
IOS 11 bugs: You can't swipe open notifications.
This might be the worst bug of them all. In iOS 10, you can swipe on a notification in the lock screen, use Touch ID to unlock the phone and go straight to the app you need.
In iOS 11, swiping doesn't work anymore.
You have to 3-D Touch the message, which brings up a passcode prompt. Once you enter your passcode, it brings up a keyboard and nothing else. You can respond to the message with the keyboard, but you can't see what the message is. It's a mess.
Bug, feature, who cares? Apple, fix this.
More iOS 11 news and updates
Can't wait for iOS 11? Here's everything you need to know about Apple's new mobile operating system. Check out our guide to the biggest iOS 11 bugs so far, along with all the new features: how to record your screen, how to block texts while driving, new effects in Messages, how it lets you bypass Snapchat's screenshot alert, iOS 11 dark mode, peer-to-peer Apple Pay and of course the iOS 11 beta release date.