IOS 11 Beta Features: Apple now prevents apps like Uber from tracking your iPhone's location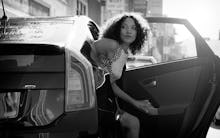 It wasn't long ago that Uber switched to its all-or-nothing location policy. In newer versions of the Uber app, granting it permission to see your iPhone's location allows the cab-hailing startup to track you whenever it wants. Other apps like Waze are guilty of the same thing, but in iOS 11, Apple will put a stop to all that.
In the upcoming iPhone and iPad software, apps are forced to include a "While Using" option in their location tracking settings. Even for apps that don't provide the option, when the app isn't running, the app isn't tracking you.
With iOS 11, users will now see a "While Using the App" option in apps that normally demand your location indefinitely. Here's the new Uber settings window, for example.
Previously, as the disclaimer at the bottom suggests, Uber only offered options for "Never" and "Always." Since people are seeing this in the beta version of iOS 11, there's always a chance this is simply a glitch, but other findings show the move is likely deliberate. Ryan Jones pointed out on Twitter that when starting up Uber for the first time in iOS 11, the "While Using" option for location access can be seen in the initial permissions request screen as well.
Uber has shown it can't always be trusted with privacy. In 2014, Forbes reported on Uber's "God View," which allowed the company to track the origins, destinations and journey of all its users. The information was reasonable for a company like Uber to have access to, but the data was being shown as entertainment during parties, as well as used to spy on "celebrities and personal acquaintances." The view was noted as being available to Uber drivers as well.
Former employees have spoken up, saying (as of December 2016) that the company's God mode still exists.
This isn't the first time we've seen Apple vouch for user privacy. During the WWDC keynote, Apple demonstrated its Intelligent Tracking Prevention, a tracking prevention solution shipping with High Sierra for Mac. Using artificial intelligence, tracking prevention will stop ad companies from following you around the web. So when you buy a Nintendo Switch (somehow, by the grace of god), ads for the Switch won't start popping up every site you visit on the internet. In addition to protecting user privacy, this move sticks it to Apple's competitors, like Google.
Reining in privacy permissions for third-party apps like Uber and Waze in iOS 11 will undoubtedly benefit users, if only in that it gives iPhone owners more options. This feature alone could make iOS 11 a must-download.