Trump says he "feels completely and totally vindicated" by Comey testimony — through his lawyer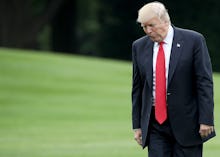 President Donald Trump said he feels "completely and totally vindicated" by the pre-written portion of FBI Director James Comey's Senate Intelligence Committee testimony, the Associated Press reported on Wednesday.
Or rather, his lawyer said so.
"The president is pleased that Mr. Comey has finally publicly confirmed his private reports that the president was not under investigation in any Russian probe," attorney Marc Kasowitz, who is representing Trump amid FBI and congressional investigations of alleged collusion between Trump and Russian intelligence assets during the 2016 election, said in a statement.
"The president feels completely and totally vindicated," Kasowitz added. "He is eager to continue to move forward with his agenda."
Trump has reportedly been eager to live-tweet his way through Comey's hearing on Thursday, though has not tweeted about Russian interference in the elections or his supposed innocence since May 31. A report in the Wall Street Journal suggested his legal representation was planning to begin reviewing all of his tweets before they were sent.
While Comey's testimony did indicate he told the president he was not under personal investigation in the Russia probe, it is not clear whether the probe could have expanded subsequent to the FBI director's exchanges with the president. What is clear from Comey's testimony, however, is that he had several encounters with the president he took as clumsy and unambiguous attempts to interfere with the FBI investigation.