E3 2017 Sports Games: 'NBA 2K18' and 3 other things we won't see at the conference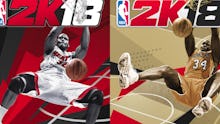 Don't expect to see NBA 2K18 at the Electronic Entertainment Expo, taking place this year from June 13 to June 15. Traditionally, Take-Two has kept its hoop series away from E3.
That isn't likely to change this year as there hasn't been any announcement of an E3 presence by 2K Sports. Fans of the series shouldn't be worried. 2K Sports are the kings of pre-release hype. You can bet the info will start rolling in at a steady clip pretty soon.
There's plenty to get excited about when it comes to E3 2017 and sports games, but there are a few things we can all but guarantee won't appear at the expo. Here's a quick rundown of what you shouldn't expect to see.
E3 2017 sports games: NHL 18 is not ready for public consumption
If you check the website for EA Sports' E3 Week presentation, you'll see the titles that are scheduled to appear. The publisher/developer's stellar hockey series NHL is not one of them.
A 35-second trailer for the game hit Wednesday, but no other information is expected before June 21 when a wealth of information is expected to be released, per the trailer above.
E3 2017 sports games: Don't bet on seeing a boxing video game
The last boxing game released for any console was six years ago. EA Sports' Fight Night Champion has a cult following, but no development team has tried to bring the sweet science back to the world of video games.
We haven't heard a peep about a game up to this point and we'd be shocked if someone suddenly announced one at E3.
E3 2017 sports games: College sports aren't quite ready to make a comeback
There have been some positive signs relating to the return of collegiate sports video games, as evidenced by the interview with former EA CEO Peter Moore in the video above, but there's no reason to believe it's imminent.
More than likely, the first publisher or developer to get back into the market will be EA Sports. 
Their NCAA Football series was the last one in existence, and there's still a large group of people waiting for it to return.
More sports gaming news and updates
Love sports games? Check out more content from Mic, including tips for leveling up your MLB The Show RTTS player, the new story mode in Madden 18, a wish for the WWE 2K18 release, and a detailed sports video game release calendar.