'NBA 2K17': How to replace every team to create a new fantasy league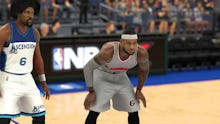 NBA 2K18 will be out in September. With a little over three months of relevance left with NBA 2K17, it's time to explore some of the alternative ways to play.
The fantastic MyLeague feature is an outstanding jump-off point for some in-game creativity. Recently, I took on quite the project. NBA 2K17 allows you to expand the NBA to 36 teams. It wasn't enough to just have 6 original expansion teams to go with the 30 existing NBA teams, I wanted 36 original squads. Here's how I did it. 
NBA 2K17: How to create a new fantasy league
First, I started a MyLeague. 
Next, select Custom League. This allows you to expand the league to 36 teams from the outset.
There's only one choice to make when you have chosen to begin a MyLeague with a Custom League. 
You have to start with the regular season.
From there, you can select the teams you want to be included in your league. Here's where the fun begins, but it can be a tedious process. Do you want to create all 36 logos, uniforms and courts?
We're insane, so that's what I did, but you could also use some of the pre-set team designs in the game as well the ones others in the 2K community have created.
If you want to find the 2K teams or the community creations, select one of the "Add New" fields on the customize league screens.
You should get this screen.
You can create your own, use one of the pre-built teams or download a team design from the community. The second two options are the easiest and quickest but don't necessarily give you the full control of your creation.
However, if you do choose to create the full design for 36 teams, it will take a little time to upload the images and design the uniforms and courts.
It took us about a week, but in the end, it was worth it. If you're looking for a tutorial on creating a team design, this one from Blackjack XXI Sports is great.
Once you've chosen or created the six expansion spots, the screen should something like the one below.
You will have to relocate and rebrand the existing 30 NBA teams. Before you start the rebranding process, you'll have set the specifics for quarter length, difficulty, etc for your MyLeague.
After that, you'll pick the number of user-controlled teams. So that you can rebrand each team, you'll need to make all of the teams user-controlled for now.
NOTE: If you are doing a fantasy draft, which is advised for this project, don't user-control all of the teams now. You'll want to only control the one you plan on playing with in the MyLeague. You can change the amount of user-controlled teams later.
You can also change them back and control 1-36 once you've rebranded the entire league. Set your MyLeague automation and get ready to change the NBA. 
If you've selected to start your MyLeague with a fantasy draft, you'll have to do that now. If not, there will be an expansion draft.
Once that's over, you can start to rebrand teams. Select each team and head into the menu and select Team Relocation.
You can choose the city, team colors, design the arena, uniforms and/or upload an entire team design.
Once you've completed each team, you will have an entirely new league will 36 new squads.
More sports gaming news and updates
Love sports games? Check out more content from Mic, including tips for leveling up your MLB The Show RTTS player, the new story mode in Madden 18, a wish for the WWE 2K18 release, and a detailed sports video game release calendar.