Ignacio Echeverría, 'skateboard hero' of London attack, mourned by family, skateboarding community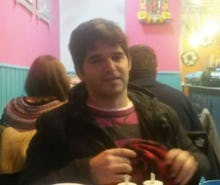 According to the BBC, Ignacio Echeverría, a 39-year-old skater from Madrid, was slain while attempting to save a woman's life at Borough Market during the London terror attack on Saturday that left at least 8 dead. His death was confirmed on Tuesday by his siblings.
"My brother Ignacio tried to stop the terrorists and lost his life trying to save others. We love you and we'll never forget you," Echeverría's sister, Isabel, said on Facebook. "Our heart is with our uncles and aunts and cousins, Guillermo Gonzalez Arnau, Javi and Guille and all the friends and family who have lost my brother."
According to the reports, Echeverría was biking home from a night out skateboarding with his friends when he saw a woman being stabbed by one of the three London Bridge attackers at Borough Market, a bustling shopping center steps from London Bridge. Echeverría rushed in to save her, attacking her assailant with his skateboard. The two other attackers then fatally wounded him from behind.
In a statement obtained by the Telegraph, the Spanish government mourned the death of Echeverría, who, while so many were fleeing the scene, rushed in to sacrifice his life while saving another.
"With deep sadness and dismay, the government has received confirmation from the British authorities that Ignacio Echeverría is among the fatal victims of the cruel terrorist attacks on London last Saturday," the statement from Madrid said, "His bravery in defending a helpless person serves as a reminder of the need to remain united before the scourge of terrorism, facing up to those whose only language is one of violence and terror."
On Instagram, the skateboarding community celebrated Echeverría's life, passion and heroism.
One post compared his bravery to a comic book superhero's.
Though Echeverría's body was thought to be found on Saturday, U.K. authorities only confirmed the skateboarder's death to his family days later. Juan Ignacio Zoido, Spain's Interior Minister, urged the British government to provide Echeverría's family with answers, criticizing the delay as "inhumane."
"It's very strange that it takes so long to identify a person, above all taking into account how the facts (of the attack) have been established," Zoido reportedly told public radio, "The family of Ignacio Echeverría is going through an inhumane and desperate situation."
According to the BBC, Echeverría was stationed in London with HSBC, working as part of a team that fought money laundering. Multiple posts on social media say a vigil was held for the slain skateboarder at Mile End Skatepark in London on Wednesday night.
If you have any photos or video from the vigil, or if you knew Echeverría and want to share a story of his life, feel free to reach out here and Mic may include it in a story.