Comey Testimony Live Blog: Comey asserts he "was fired because of the Russia investigation"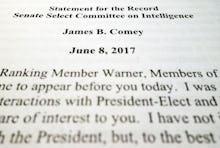 12:42 p.m.: Comey's testimony wraps
Thanks for following Mic's coverage of Comey's testimony before the Senate Intelligence Committee.
Stay with Mic all day for continuing coverage of the hearing and the fallout.
12:32 p.m.: Comey asserts that he believes he was fired because of the Russia investigation
In his testimony, Comey did not equivocate.
"It's my judgement that I was fired because of the Russia investigation," Comey said.
12:25 p.m.: Comey says special counsel in Clinton email investigation would have been "unfair"
Comey says that while he questioned some of former Attorney General Loretta Lynch's behavior in meeting on an airport tarmac with former President Bill Clinton, appointing a special counsel would have been "unfair" in the situation.
"I knew there was no case there," Comey said of Hillary Clinton's email investigation, saying a special counsel would have taken a long time and come to the same conclusion.
Comey added that the reason why there has never been an announcement that Trump isn't under investigation is because it would become a huge deal if Trump does, eventually, come under the FBI's lens.
"If that boomerang comes back, that will be a very big deal," Comey said.
12:08 p.m.: Comey says Flynn was being investigated for possibly lying to the FBI
"That was the subject of the criminal inquiry," Comey said, in reference to a question of whether Flynn "deceived" the FBI.
12:05 p.m.: Comey won't say whether he thinks Trump personally colluded with Russia
"That's a question I don't think I should answer in an open setting," Comey said in a line of questioning from Sen. Tom Cotton (R-Ark.).
11:59 a.m.: Comey to Trump: "Release all the tapes"
"I'm good with it," Comey said, saying he consents to the release of the purported tapes Trump said he had of their conversations.
11:50 a.m.: House Speaker Paul Ryan defends Trump
As Comey testified, Ryan offered a defense of Trump, telling reporters Trump is "just new to this" and that he doesn't understand protocol.
11:43 a.m.: Comey said he had to cancel a date with his wife to go to dinner with Trump
In a moment of levity in an otherwise tense hearing, Comey got laughs from the hearing room when he said he had to cancel a date with his wife in order to have dinner with Trump.
But Comey then said Trump's claim that Comey had initiated the dinner the two had in January was false.
"I never initiated any communication with the president," Comey said.
11:35 a.m.: Trump's lawyer will make a statement after Comey's hearing
11:26 a.m.: Comey says he wanted an appointment of a special counsel
Comey revealed that after he was fired, he told a friend to share his memos with a reporter in order to spark the appointment of a special counsel.
Comey described the friend as a "professor at Columbia Law School," prompting the school's website to crash.
The professor is named Daniel Richman, and he confirmed to Mic's Kelsey Sutton that he leaked the memos to the press.
11:20 a.m.: Comey says Attorney General Jeff Sessions' "continued engagement" in the Russia investigation would be "problematic"
Comey suggested that there is more to Sessions' recusal from the Russia investigation than is publicly known.
11:11 a.m.: Sen. Marco Rubio (R-Fla.) is the first senator to bring up leaks
In his line of questioning, Rubio brings up leaks on the FBI investigation into the Trump campaign's alleged Russian collusion.
"We've learned more from newspapers than our own hearings," Rubio said.
11:02 a.m.: Trump hasn't tweeted yet, but his son has
While President Donald Trump hasn't tweeted anything yet during the hearing, his eldest son, Donald Trump Jr., has been live-tweeting the testimony.
Trump Jr. called the "Flynn stuff BS," and said, "Knowing my father for 39 years when he 'orders or tells' you to do something there is no ambiguity, you will know exactly what he means."
10:59 a.m.: Comey says he hopes there are tapes of his conversations with Trump
After Trump tweeted a suggestion there are tapes of his conversations, Comey said he hoped Trump actually had the tapes he alluded to.
"I've seen the tweet about tapes. Lordy, I hope there are tapes," Comey said.
10:54 a.m.: Comey says he "took it as a direction" when Trump said he "hoped" he could let the Flynn investigation go
"I took it as a direction," Comey said. "This is the president of the United States with me alone saying, 'I hope this."
Comey added, "I didn't obey that, but that's how I took it."
10:45 a.m.: Comey worried Trump sought something amounting to quid-pro-quo in order to keep his job
Comey testified, under oath, that he worried Trump had called him to the White House in order to get something in return for keeping his job.
"My commonsense told me that what's going on here is he's trying to get something here for granting me the chance to stay in my job," Comey said.
10:37 a.m.: Comey says he kept records because he thought Trump might "lie" about their meetings
In yet another bombshell moment at the hearing, Comey said he took meticulous notes about his interactions with Trump because he was concerned Trump "might lie about the nature of our meeting."
Comey added that he didn't document his meetings with former Presidents Barack Obama and George W. Bush because he wasn't concerned they would lie.
10:35 a.m.: Comey says Bill Clinton's tarmac meeting influenced his decision on the email investigation
Comey said that former President Bill Clinton's meeting with then-Attorney General Loretta Lynch on a tarmac in Arizona was "ultimately conclusive" in his decision to announce the results of his investigation.
Trump said Comey's decision to announce the Hillary Clinton email investigation in the way he did was part of the reason that led to Comey's firing.
10:30 a.m.: Comey confirms Flynn was in "legal jeopardy"
Comey confirmed that at the time of Flynn's firing — when Trump asked Comey to "let this go" — Flynn was under criminal investigation.
10:23 a.m.: Comey does not hold back in his opening statement
Comey's sworn testimony has now begun.
He says he's not going to read the testimony he submitted to the committee (which you can see here), instead offering some unscripted remarks.
"The explanations, the shifting explanations confused me and increasingly concerned me," Comey said.
Comey said Trump's subsequent reasoning for firing him "were lies, plain and simple."
"It confused me when I saw on television the president saying that he actually fired me because of the Russia investigation and learned again from the media that he was telling privately other parties that my firing had relieved great pressure on the Russia investigation," Comey said.
10:10 a.m.: Chairman Richard Burr begins the hearing
Burr delivered his opening statements, in which he said Comey's prepared testimony "provides texture and context to your interactions with the president, from your vantage point, and outlines a strained relationship."
"The American people need to hear your side of the story, just as they need to hear the president's description of events," Burr said.
Burr also issued a warning to members of the committee not to make the hearing a political spectacle.
"We must keep these questions above politics and partisanship — it's too important to be tainted by anyone trying to score political points," Burr said.
10:02 a.m.: Comey arrives
Comey has taken his seat as this blockbuster hearing gets underway. He sat stone faced as camera shutters clicked away to grab the iconic image of his arrival.
9:50 a.m.: Washingtonians pack D.C. bars to watch the hearing
This Comey hearing is one of the most anticipated congressional hearings in years.
It's even become a social event in Washington, D.C., where bars are opening early to allow patrons to have some drinks while they watch Comey testify.
Lines at some bars wrap around the corner as people wait to get in and settle down for the hours of questioning Comey will face.
9:37 a.m.: Vice Chairman Mark Warner releases opening statement excerpts
Warner, the Virginia Democrat and second-in-command on the Senate Intelligence Committee, released excerpts from his opening statements in the hearing.
He's expected to say that the testimony Comey submitted to the committee is "disturbing."
"This is not how a President of the United States behaves," Warner will say.
9:30 a.m.: Republicans release talking points
As Comey's testimony nears, the Republican National Committee released talking points for their surrogates to use in order to defend Trump.
But the talking points are contradictory.
In the same breath, Republicans will claim Comey both confirms Trump didn't obstruct justice, and that Comey is not a trustworthy source.
Introduction
Former FBI Director James Comey is set to testify before the Senate Intelligence Committee Thursday, where he'll address the events that led up to his eventual firing by President Donald Trump.
The Senate Intelligence Committee has already released Comey's opening statement, in which Comey confirmed that Trump not only asked for his loyalty, but tried to end the investigation into former national security adviser Michael Flynn and asked the former FBI director to "lift the cloud" of the Russia investigation.
Comey also confirmed he told Trump he wasn't personally under investigation, which Trump's lawyer on Wednesday said made the president feel "completely and totally vindicated."
While Comey's opening statement has already been released, senators will also question him about his interactions with Trump and the investigation into the Trump campaign's alleged Russian ties.
The hearing is set to begin at 10 a.m. Eastern. Stay with Mic for live updates.