'Mass Effect: Andromeda' Patch 1.08 Release Date and Time: Here's when you can grab the new update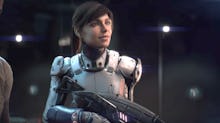 Update: Patch 1.08 is now available for download. The original story follows.
One of the largest, most significant Mass Effect: Andromeda updates — patch 1.08 — since its original release is just a few hours away from being unleashed upon the world.
So, when exactly will you be able to download it, check out the new character creator and start smooching Jaal? We've got all the details below.
Mass Effect: Andromeda 1.08 release date time
According to the official Mass Effect Twitter, you should expect the patch to download just after 11 a.m. Eastern. Because of the new patch, multiplayer and strike teams won't be available for a one-hour window starting at that time.
Need a refresher on exactly what this patch includes? We've got the full rundown here.
June 8, 2017, 11:42 a.m.: This story has been updated.
More gaming news and updates
Check out the latest from Mic, like this essay about the sinister, subtle evils lurking in rural America that Far Cry 5 shouldn't ignore. Also, be sure to read our review of Tekken 7, an article about D.Va's influence on one Overwatch player's ideas about femininity and an analysis of gaming's racist habit of darkening villains' skin tones.