Ariana Grande Paris Show: Singer's tour resumes with heightened security and Manchester tribute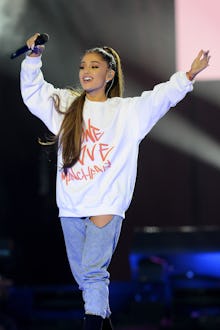 Since the bombing at the Manchester stop of her Dangerous Woman tour on May 22, Ariana Grande has been comforting her fans and the victims of the terrorist attack with hospital visits and a star-studded One Love benefit concert. Now the singer has resumed her world tour, which was postponed in the wake of the attack.
Grande relaunched her tour on Wednesday night in Paris, where security appeared to be ramped up, according to a Twitter account that shared a video from the event. Security officials blocked off the roads surrounding the AccorHotel Arena in the hours leading up to Grande's show, Reuters reports. Other measures taken to secure the venue included the presence of more police and sniffer dogs. Bags of concert goers were also searched.
At the end of the concert Grande performed "Over the Rainbow," a song she also played during her tribute concert on Monday, as a nod to Manchester.
Ahead of the show's start, Grande shared a photo of the Eiffel Tower on Instagram, along with a few heartfelt words for her supporters.
"First show back tonight," she wrote. "Thinking of our angels every step of the way. I love you with all my heart. Grateful for and incredibly proud of my band, dancers and entire crew. I love you I love you."
There were 22 people killed and dozens injured in the Manchester bombing. Twenty-one people have been arrested in connection to the tragic incident, the Greater Manchester Police tweeted Thursday. Twelve of those individuals have been released and nine are still in custody.
Grande's benefit concert pulled in more than 3 million dollars and featured a lineup of several big pop stars, including Justin Bieber, Miley Cyrus and Katy Perry.
Her Dangerous Woman tour continues with stops at Lyon, France, on Friday, Lisbon, Portugal, on June 11, and Barcelona, Spain, on June 13. The full tour schedule is available here.
Mic has ongoing Ariana Grande coverage. Please follow our main Ariana Grande hub here.