These are the most scathing reviews for 'The Mummy'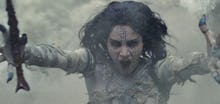 The critics have spoken, and let's just say The Mummy is being buried under negative reviews. The new Tom Cruise-starring action-horror flick, which is intended to be the first film in Universal's shared Dark Universe, appears to be dead on arrival, with an abysmal 23% on Rotten Tomatoes.
The Mummy is just the latest high budget (potential) franchise film to be largely eviscerated by the review aggregation site. Recent releases like King Arthur, Baywatch and Pirates of the Caribbean: Dead Men Tell No Tales are all sitting under 30% on Rotten Tomatoes, likely contributing to their poor performances at the domestic box office.
While we will have to wait and see how these negative reviews affect The Mummy's fortunes — it is likely to be saved by overseas grosses — it's doubtful that this is the start Universal Pictures was hoping for from the first film in its shared monster universe.
To get a better idea at what critics are saying about The Mummy, here are some of the scarier — OK, funnier — reviews to have been written so far. Yes, there will be puns.
Michael Phillips, Chicago Tribune:
The rest of the movie is a pain in the sarcophagus. I fear that it will anger the gods.
Peter Travers, Rolling Stone:
How meh is 'The Mummy'? Let me count the ways. For all the huffing and puffing and digital desperation from overworked computers, this reboot lands onscreen with a resounding thud. Tom Cruise should have played the Mummy – that way his face would be swathed in bandages and his fans wouldn't have to see him sweat so hard to get this lumbering loser off the ground.
Scott Mendelson, Forbes:
['The Mummy'] starts pretty badly and then coasts well enough on its own grounded and horror-centric terms for about an hour before collapsing into a puddle of cinematic-universe-driven indecision.
Matt Singer, ScreenCrush:
But even Tom Cruise cannot outrun this movie's problems.
Rodrigo Perez, Playlist:
'The Mummy' is a dated, empirically dismal, laughable excuse to kick off a franchise, and it should have remained entombed.
A.O. Scott, New York Times:
It will be argued that this one was made not for the critics but for the fans. Which is no doubt true. Every con game is played with suckers in mind.
Tim Grierson, Paste Magazine:
It's a sad irony of this film that [zombies are] only slightly less inert than our main characters.
The Mummy opens in theaters nationwide on June 9.
Mic has ongoing coverage of movies. Please follow our main movies hub here.