These are the 7 horror movies hitting theaters this summer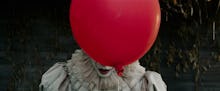 Summer is a time for many things: staying inside and enjoying the air-conditioning, $1 soft drinks from McDonald's and spending the day at the movies.
This summer has the usual onslaught of big summer blockbusters, comic book films and another Transformers sequel. For those looking for something a little different, there are a ton of horror movies coming out this summer and they promise to scare your pants off.
This summer's lineup has everything: more creepy doll stuff in Annabelle: Creation. Nicole Kidman and Elle Fanning torturing Colin Farrell in The Beguiled and, just when you thought clowns were safe again, a remake of Stephen King's It.
These are the seven horror movies to look forward to this summer:
From the studio that brought you movies like The Witch, Green Room and Under the Skin, A24 has more plans to scare everyone this summer.
It Comes at Night revolves around a teenage boy dealing with what happened after a cataclysm. Those remaining after the events come together but things, of course, take a turn for the worse. The movie stars Joel Edgerton, Riley Keough and Christopher Abbott and is earning rave reviews from critics.
Nothing says summer like a shark movie. Following the success of The Shallows last year, 47 Meters Down is here to remind you it's never safe to go into the water. Mandy Moore stars in this shark-thriller about two women who are trapped underwater and have to escape before the sharks eat them.
If a shark trying to eat Mandy Moore isn't for you, audiences looking for more refined and gothic thrills can anticipate The Beguiled.
Sofia Coppola directs an all-star cast featuring Nicole Kidman, Elle Fanning and Kirsten Dunst. Taking place during the Civil War, the women are part of a girls' boarding school in the South, and one day an injured soldier, played by Colin Farrell, stops by. The film premiered at Cannes in May and earned solid reviews continuing the unstoppable year of Kidman.
The other A24 horror movie coming out this summer is A Ghost Story, starring Casey Affleck and Rooney Mara. The horror movie is a story about loss and grief and dealing with the death of a loved one. Affleck plays the ghost of a dead man who is stuck in time and watches those he loved move on. The film is getting stellar reviews from critics who are calling it "unforgettable."
Annabelle was a monster hit at the box-office, so another movie is the natural next step. Annabelle: Creation is a prequel to the first movie, which is a spinoff from The Conjuring, and shows how the creepy, murderous doll got her start.
There are two Stephen King adaptation's hitting theaters this summer. The first is Ron Howard's The Dark Tower film, starring Idris Elba and Matthew McConaughey. Elba plays The Gunslinger and McConaughey plays The Man In Black, and the two face off in an epic battle to protect the Dark Tower and all the creatures it holds.
7. It — Sept. 8
The second Stephen King movie that will spook audiences this summer is It. Mama director Andrés Muschietti brings to life one of King's most classic horror stories about the evil clown that haunts a group of children in Derry, Maine. Kids' birthday parties will never be the same again.
Mic has ongoing movie coverage. Please follow our main movie hub here.