Judge jailed assault victim in cell near alleged assailant to ensure her testimony in court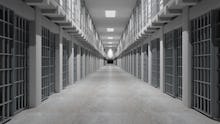 An alleged sexual assault victim in Edmonton, Canada, was forcibly shackled and held in a jail cell near her alleged assailant to ensure she would return to court to complete her testimony in 2015. Now, a justice is trying to launch an investigation into the court's treatment of her.
According to the Huffington Post, the victim — an indigenous woman who's been identified with the pseudonym Angela Cardinal — was also brought to court in the same van as the man she said beat, stabbed and sexually assaulted her.
"I'm the victim and look at me, I'm in shackles," Cardinal reportedly told provincial court Judge Raymond Bodnarek when she later appeared in court. "Aren't you supposed to commit a crime to go to jail?"
All told, Cardinal spent five nights in the same jail as her alleged attacker, Lance Blanchard.
Blanchard allegedly assaulted Cardinal — who was homeless at the time — in 2014 as she slept in an apartment stairwell. Blanchard, a resident of the building, allegedly forced Cardinal into his second-floor apartment and bound her in electrical cords before physically and sexually assaulting her.
Cardinal managed to put her phone on speaker and call 911 in the middle of the attack. Authorities arrived on the scene just six minutes later, putting a stop to Cardinal's assault and treating her injuries, which included a wound requiring 27 stitches.
When Cardinal appeared in court to testify in June 2015, she reportedly had a difficult time answering questions on the stand and repeatedly nodded off. It was this behavior that prompted the prosecutor to request she be held in jail to make sure she completed her testimony.
But many are insisting the court's treatment of Cardinal is uncalled for, no matter her actions on the stand.
"The facts of this case are disturbing and tragic, and when you add in the treatment of the victim in the system, they are almost incomprehensible," Alberta Justice Minister Kathleen Ganley told the BBC.
Ganley has ordered an investigation into Cardinal's imprisonment.
"There weren't any policies in place to indicate she shouldn't have been shackled," Ganley said. "Now, that being said, I'm a little surprised that no one looked at the case and said that this isn't appropriate."