James Comey Testimony: What to know before the former FBI director testifies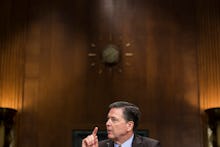 We know what he's going to say, but that does not make it any less of a nail-biter.
Former FBI Director James Comey will testify Thursday morning before the Senate Intelligence Committee. His prewritten testimony was released Wednesday by the committee, confirming media reports that President Donald Trump asked Comey to stop investigating Michael Flynn, the former national security adviser.
Worth noting: Comey's statement did not reveal anything substantial that had not been previously reported.
Trump, for his part, released a statement via his lawyer saying he "feels completely and totally vindicated" by Comey's testimony. Trump focused on the statement noting the times Comey told the president he was not personally under investigation; it didn't note the potential obstruction outlined by Comey. House Speaker Paul Ryan (R-Wis.) said Trump asking Comey for "loyalty" was "obviously" not appropriate.
Surprises could still emerge from the hearing. Comey will read his testimony and then face questions from senators who have been eager to query him for weeks. And those senators are likely to take advantage of this extremely high-profile meeting. "This is not how a president of the United States behaves," Mark Warner, the intelligence committee's vice chairman and a Democrat from Virginia, is expected to say.
Here are the five biggest questions facing Comey ahead of the hearing. A Washington, D.C., bar will offer free booze for every time Trump tweets during the testimony.
The testimony comes as former Director of National Intelligence James Clapper said Watergate "pales" in comparison to the Trump-Russia investigation. One poll now pegs Trump's approval rating at 34%; FiveThirtyEight pegs his approval across polls at a lowly 38%.
This is Mic's daily read on Donald Trump's America. We're keeping it brief this morning, but look out for a special edition of Navigating Trump's America in your inboxes shortly after Comey's testimony wraps.
Want to receive this as a daily email in your inbox? Subscribe here.
We're seeking your support to expand our coverage of Donald Trump. As little as a $1 a month will give you access to an exclusive group to interact with Mic journalists and grow our reporting. Learn more here.
What we're watching
Today: Everything will stop at 10 a.m. for the James Comey hearing.
More: The president is still pushing infrastructure.
Even more: Voters in the United Kingdom seem poised to increase Prime Minister Theresa May's mandate.
Trump's agenda today: Speaking to the Faith and Freedom Coalition. Hosting governors and mayors for an infrastructure summit.
Trump visits Ohio
Trump's campaign-style stop Wednesday in Cincinnati was overshadowed by the publishing of Comey's planned testimony. Trump did not mention Comey in his speech that pushed a $1 trillion infrastructure plan, which calls for $200 billion in federal investment to incentivize $800 billion in private spending. The details of the plan have yet to be released, after the transportation secretary said they would be announced in "late May."
Trump called Democrats in Washington "obstructionists" and gave the speech on the edge of the Ohio River, with a floating barge full of West Virginia coal as his backdrop.
News and insight you cannot miss:
• North Korean leader Kim Jong Un slammed Trump's decision to pull out of the Paris Climate Agreement.
• Former FBI agents are worried how and when Trump chose to announce his next FBI director further politicizes the agency.
• The U.K. is holding a parliamentary election today in the wake of last weekend's terrorist attack in London.