Super Nintendo World Universal: Mario gets hyped about upcoming Nintendo theme park in Japan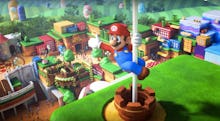 There's a lot to love about Nintendo in 2017, from the release of the Switch to great incoming games. The gaming company is now dipping its toes into something nongaming: amusement parks.
Universal Studios in Japan is getting a Super Nintendo World.
The Super Nintendo World trailer shows us a hyperactive Mario who simply can't contain his excitement for this park. If the theme park lets us jump, stomp and platform through super-sized Mario levels in real life, sign us all the way up.
Running through pipes and leaping off buildings, it's clear this man is ecstatic. Somebody tell Mario that construction on the park isn't even finished yet.
Unfortunately, this doesn't give us a real look at what to expect from the Universal Studios Nintendo-themed park. The real people don't distract from the fact that this is a computer-generated version of the park.
Super Nintendo World may be far from finished, but the trailer includes some elements that we could see coming to it. Giant green pipes and Bowser's Castle-looking buildings may not be too far off from what we'd expect. And if there aren't teenagers dressed in oversized Mario and Luigi costumes like Disney World has for its characters, you can start prepping a full refund now.
The trailer doesn't offer a date as to when we can expect Super Nintendo World to open to the public, but work on it has already started. Until it is finished, you may have to take your Super Mario adventures to the virtual world instead.
More gaming news and updates
Check out more video game content on Mic, including which Pokémon are actually the best and why black players can never seem to get custom characters that look like them. Learn more about how blind gamers are getting in on the fun and that Injustice 2 appears to be nerfing its female characters. See why we love Twintelle (and why we hate Twintelle) in the upcoming Arms, and don't miss our guide to dodging blue shells in the Mario Kart 8 Deluxe — you can thank us later.