Video shows Jersey City police kicking injured bystander after fiery car crash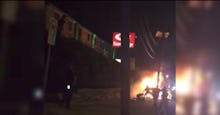 New cellphone footage made public Wednesday shows the brutal aftermath of a fiery car crash that happened in Jersey City, New Jersey, Sunday night.
In the video — which was first obtained by Univision — a crash victim can be seen pulling himself from the wreckage, flames still engulfing parts of his body. Police officers suddenly converge on the injured man, and at least one officer kicks him in the head while he's lying on the ground.
More officers appear to join in, dragging the victim into the road and kicking him repeatedly. The collision marked the end of a police pursuit that had begun earlier that evening, according to NJ.com. A spokesperson for the city, Jennifer Morrill, said she was concerned by how the officers handled the chase.
"We have serious concerns about the conduct of this pursuit; however, we are reserving judgment until the conclusion of the prosecutor's investigation," she told NJ.com.
It remains unclear why officers attacked the injured man to begin with, but reports state that the victim being kicked in the video is not, in fact, the man police had been chasing.
The real target of the pursuit was Leo Pinkston, 48, who was charged with eluding and aggravated assault after the chase ended. Pinkston was reportedly fleeing a traffic stop, and ended up crashing into the car that was being driven by the man in the video.
The victim in the video — who has not been named publicly, but is reportedly 28 years old — is "fighting for his life" in the hospital, with several broken bones, second- and third-degree burns and swelling on his face.
No police have been suspended in connection with the case, NJ.com reports. The Hudson County Prosecutor's officer has opened an investigation into the incident.