How to get to Morrowind in 'ESO': Where to find the island of Vvardenfell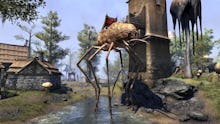 The new Elder Scrolls Online expansion takes players back to Vvardenfell, the setting of 2003's Elder Scrolls III: Morrowind, and also adds a new class and changes to the champion points system.
If you've purchased the expansion and are wondering how to access your new content, we're here for you. It's not hard, but it can be a little unintuitive.
ESO: Morrowind: Getting your existing characters to Vvardenfell is a hike
According to Elder Scrolls Online, the easiest way to get to Vvardenfell is to start a new character. Whether you have an existing account or just purchased one for the expansion, you can go through a new tutorial — new players will not be given the option to skip this — and be sent straight to Seyda Neen.
If you'd like to take an existing character to the lands of Morrowind, you'll have to find the Seyda Neen Wayshrine in your map. It'll be the only wayshrine available to you on the island of Vvardenfell itself, so you won't be able to miss it.
If you're importing an existing character into the new story, the game recommends looking around for locals who might be in need of assistance. You could also stop by the nearest inn and grab "The Missing Prophecy" quest, which will set you up with some plot details and gift you with a memento called the Twilight Shard that "produces a dazzling tribute" to the Daedric Prince Azura.
More gaming news and updates
Check out the latest from Mic, like this essay about the sinister, subtle evils lurking in rural America that Far Cry 5 shouldn't ignore. Also, be sure to read our review of Tekken 7, an article about D.Va's influence on one Overwatch player's ideas about femininity and an analysis of gaming's racist habit of darkening villains' skin tones.