'Call of Duty WW2' E3 2017: Multiplayer gameplay and everything else we expect to see announced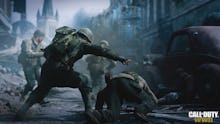 Another year, another Call of Duty. This time, it's going back to the European theatre in the second World War, in Call of Duty WWII, which promises the same full suite of single and multiplayer features we've come to expect from the series. With E3 2017 approaching in mere days, what can we expect from Call of Duty WWII at the big show?
Call of Duty WW2 E3 2017: Expect plenty of multiplayer
Multiplayer is naturally the big draw of every Call of Duty game, and we haven't seen a single second of this year's competitive offering. We know it will be slower and more grounded — of course — than the last few games, but we have yet to see what that looks like.
According to GameSpot, Activision has confirmed a full multiplayer reveal at E3. Whew, glad we're getting that out of the way. We will, indeed, be able to shoot out friends with all manner of 1940s weaponry in Call of Duty WWII. The biggest new features are a Destiny-like social space and a mode based on iconic, real-life battles from World War II. Hopefully we get a good look at those at E3.
You can also expect some kind of single player stage demo at either Sony or Microsoft's press conference — we got the same thing with Infinite Warfare in 2016. There could also be gameplay footage of the new zombies mode, of course.
Finally, we might find out when the multiplayer beta for players who preorder the game starts. That seems like a pretty important thing, too.
More gaming news and updates
Check out the latest from Mic, like this essay about the sinister, subtle evils lurking in rural America that Far Cry 5 shouldn't ignore. Also, be sure to read our review of Tekken 7, an article about D.Va's influence on one Overwatch player's ideas about femininity and an analysis of gaming's racist habit of darkening villains' skin tones.