Phoenix's 'Ti Amo' is here: Download and streaming options for the new album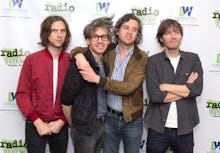 Four years after Phoenix released its 2013 Bankrupt!, the French rock band has returned with its sixth studio album Ti Amo. The new record is available to purchase here on iTunes. You can also stream the album on Spotify here and on Tidal here.
The group recorded its latest effort in Paris amid heightened fear following a string of terrorist attacks in the city in November 2015.
"At some point when we were in the studio, there was a slight sense of guilt," band member Thomas Mars told the New York Times in April. "But we were comforted by the idea that the four of us working wasn't escapism or denial. When that became clear, the guilt disappeared."
Although Ti Amo was recorded in a time of chaos, the group's latest effort promises to be a feel-good body of work that's light and joyful, Mars told Entertainment Weekly.
Phoenix has already unveiled "J-Boy," its first single for Ti Amo. The song's visual arrived in May and featured the band performing on a stage surrounded by an array of colorful flickering lights. On May 18, Phoenix revealed audio and lyrics for title track "Ti Amo," a multilingual "romantic song about the tragedy of unreciprocated love and desire," as described by the band.
On Sunday, the group released the visual "Goodbye Soleil" — which translates to goodbye "sun" — a track backed by cheery synths and a video featuring a compilation of throwback summer footage of everything from the beach to outdoor fairs.
In other Phoenix news, the band is continuing its world tour Saturday in San Francisco, Sunday in San Diego and and Monday in Phoenix. View additional tour dates here.
Here's the full track list for Phoenix's Ti Amo via iTunes:
1. J-Boy
Mic has ongoing music coverage. Please follow our main music hub here.