California middle school recalls yearbook after the word "n*gger" is discovered on cover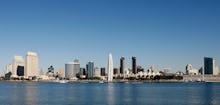 Administrators at Black Mountain Middle School in San Diego scrambled to take back about 1,000 yearbooks from students this week after some eighth graders noticed Monday that the word "nigger" was displayed on the cover, according to the San Diego Union-Tribune.
"This is something that we definitely need to look at in terms of how the yearbook gets edited and proof-read," Christine Paik, director of communications with the Poway Unified School District, told the Union-Tribune. "Even if it was unintentional, it was still hurtful to people, and we don't want to do it again."
The racial slur appeared on a 19th century map of North County that served as part of the book's cover. It was contained in the name given to a roadway that led to the home of a former slave, Nate Harrison, who was the area's first black homesteader, according to the Save Our Heritage Organisation.
The road was known at the time as "Nigger Nate Grade." It was renamed in 1955, when the NAACP successfully petitioned to have it changed. The outdated map was included on the yearbook cover as part of the book's theme, "Looking for Adventure."
All but three of the yearbooks have been successfully returned by students, the Union-Tribune reported, and administrators have contacted the students who still have the remaining copies. Reprinting the books with a new cover would cost the school an estimated $36,000, so administrators have opted to have school workers scratch off the offending word one book at a time. No books have been distributed to sixth or seventh graders yet.
The school's principal, Charan Kirpalani, apologized for the error and assured families that the school was working to rectify the mistake.
"We deeply regret this error and have recalled all yearbooks distributed to grade eight students and will delay distributing the books to our grade six and seven students," he said, according to the Union-Tribune. "We understand how important the yearbooks are to our students and are working on getting their memories to them. We are making the correction and will redistribute the yearbooks as soon as possible. Please contact us with any concern."