Michelle Obama on the double standard of dressing in the WH: "Barack wore the same tux for 8 years"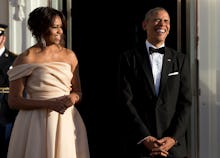 Before Michelle Obama was even first lady, people were obsessed with her style, taking note every shoe and dress and belt she wore. Once first lady, of course that attention only magnified.
But as far as her husband, well, no one really gave a lick about that.
In an interview at Apple's Worldwide Developers Conference on Tuesday, Obama talked about the double standard she saw in the White House, with so many people paying attention to what she wore, but very little attention on what her husband wore.
So little attention, in fact, that Obama said that her husband had worn the same tuxedo for eight years, the entirety of his presidency.
"This is the unfair thing — you talk about Fred Astaire and Ginger Rogers — no matter what we do, he puts on that same tux," she said. "Now, people take pictures of the shoes I wear, the bracelets, the necklace — they didn't comment that for eight years he wore the same tux, same shoes."
So we did a little digging.
And Michelle Obama is absolutely correct. The same tux. The same pocket square. The same bowtie.
Every time.
"And he was proud of it too," she continued. "He's like, 'Mmm, I'm ready. I'm ready in 10 minutes. How long did it take you?' I'm like, 'Get out of here.'"
You can see a clip of Obama speaking about that here:
Obama's remarks now only affirm the idea that women in politics are harshly judged based on their clothing, with attention reverted to things like their dresses or even jewelry, rather than their words.
That being said though, that was a good tux.