'GTA Online' Gunrunning Update: Confirmed release date and new trailer for 'GTA 5' DLC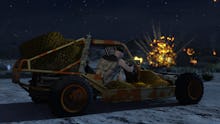 GTA Online, the persistent online multiplayer portion of 2013's Grand Theft Auto V, has seen its share of DLC over the years — new cars, new bikes, a Tiny Racers mode and the ability to do bank heists with your friends. Recently, fans have been excited about the promised Gunrunning update, fueled by the steady trickle of updates Rockstar has issued about the new DLC.
If you're wondering when, exactly, the Gunrunning DLC will be released, wonder no more. We've got the details — and a shiny new trailer — below.
GTA Online Gunrunning update: Finally, an official release date
The official Rockstar newswire released the trailer Wednesday and announced the new DLC would be available Tuesday.
As previous newswires have indicated, the Gunrunning DLC will be open to both CEOs and Motorcycle Club Presidents, and you'll start your journey into the sordid world of arms dealing by entering into a bunker. From there, you'll be able to develop weapon mods, weaponized vehicles and even create your own Mobile Operations Center — a semitruck you can use to modify your weapons and vehicles in the field as well as install weapons your crew can use to waste your enemies.
If you're looking for a taste of what you can expect from the Gunrunning update, check out the below trailer — which has some great shots of weaponized vehicles, the Mobile Operations Center and the bunker you'll call home base during the DLC:
GTA Online's Gunrunning DLC drops Tuesday.
More gaming news and updates
Check out the latest from Mic, like this essay about the sinister, subtle evils lurking in rural America that Far Cry 5 shouldn't ignore. Also, be sure to read our review of Tekken 7, an article about D.Va's influence on one Overwatch player's ideas about femininity and an analysis of gaming's racist habit of darkening villains' skin tones.