Comey Testimony: Right hooks fly as conservatives watch Senate Intel proceedings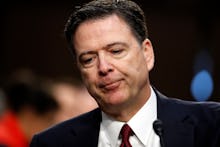 The American right fired up the Twitter machine Thursday, with the GOP keeping up a steady stream of rapid responses and taking every possible shot at former FBI Director James Comey during his testimony before the Senate Intelligence Committee.
Conservatives gloried in storylines about how Comey had "put himself in a box" before President Donald Trump axed him as head of the bureau, suggesting the former director's much-anticipated testimony was a blow to a breathless left.
Here's a look at how the right interpreted the events.
The pundits:
"Comey is very good at this, but the underlying legal case against Trump has unavoidable factual weaknesses," National Review editor Rich Lowry tweeted.
Conservative pundit Ben Shapiro, not noted for his love of Trump, aimed his tweets at how he saw Comey's testimony blowing holes in the "leftist narrative."
Comey's admission that he was stunned when Trump asked him about former national security adviser Michael Flynn won him mockery from the right, particularly from Jack Posobiec, former Washington bureau chief for the Rebel and noted conspiracy peddler.
Comey was dubbed "J. Edgar Comey" by employees of such far-right sites as Prison Planet.
And the Daily Mail's David Martosko suggested a left-leaning press was embroiled in a paroxysm of "schadenfreude" over the Comey hearing.
As the world waited for Trump himself to chime in from his platform of choice, his eldest son, Donald Trump Jr., took the lead on Twitter, coming to his father's defense throughout the duration of the proceedings and casting doubt on Comey's claims.
The politicians:
Specifically to counter that narrative, the Republican National Committee kept up a steady stream of advisories and emails.
"The RNC has a lot of shareable content in response to this morning's Senate Intelligence hearing. Please share these on your social media channels and with others to help amplify the message," read one email that included links to tweets from Donald Trump Jr. and other commentary the party pushed using the hashtag "#BigLeagueTruth."
Republican Speaker of the House Paul Ryan, according to the Associated Press, took a more measured approach in suggesting the president had more of a learning curve than ill intent.
Navigating Trump's America is live-blogging James Comey's testimony before the Senate Intelligence Committee. Follow along here.