'Call of Duty WW2' Multiplayer: Divisions shake up character customization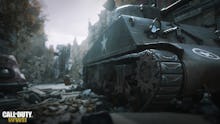 Call of Duty multiplayer has allowed you to create your own class by choosing from a variety of weapons, perks and other upgrades since Call of Duty 4: Modern Warfare. With Call of Duty WWII, it sounds like Sledgehammer games is rethinking things a bit.
Call of Duty WW2 multiplayer brings divisions to customization
In an interview on the PlayStation blog, Call of Duty WWII developer Michael Condrey answered a series of questions about the game's single and multiplayer modes. Of particular interest is his last answer, which pertains to the create-a-class system players have come to love in the past decade of Call of Duty games.
We're days away from E3 2017 and the team at Sledgehammer Games can hardly wait to share more on our multiplayer plans. We're particularly looking forward to revealing more on divisions. Divisions fundamentally redefines how players invest in their multiplayer soldier career. Replacing the create-a-class system, players choose from five iconic World War II divisions, each with specific basic combat training, division training and weapon skills. We think it'll intrigue 'Call of Duty' series veterans, and we can't wait for our fans to see it for themselves.
Unless "replacing the create-a-class system" is misleading language, it sounds like things are going to change drastically from previous Call of Duty games. Segmenting players into five distinct play styles with their own upgrade paths sounds more like the Battlefield approach to leveling.
Of course, that could all be smoke and mirrors and maybe things haven't changed that much. We'll find out in just a few short days at E3 2017.
More gaming news and updates
Check out the latest from Mic, like this essay about the sinister, subtle evils lurking in rural America that Far Cry 5 shouldn't ignore. Also, be sure to read our review of Tekken 7, an article about D.Va's influence on one Overwatch player's ideas about femininity and an analysis of gaming's racist habit of darkening villains' skin tones.