Is Trump tweeting during the Comey hearing? No, but everyone else is.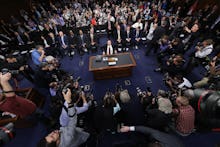 When former FBI Director James Comey began testifying before the Senate Intelligence Committee on Thursday, it seemed like almost everyone was weighing in on Twitter — with one notable exception.
More than an hour into the hearing — during which Comey addressed his firing, the FBI's investigation into Russia's alleged role in the 2016 election and his concerns that President Donald Trump "might lie" about private conversations that the two had — Trump still hadn't tweeted.
The president's silence on Twitter didn't go unnoticed.
Even Captain America actor Chris Evans urged the president to tweet.
While Trump may have been silent, the rest of the Twitter-sphere couldn't stop talking — and joking — about the Comey hearing.
Navigating Trump's America is live blogging James Comey's testimony before the Senate Intelligence Committee. Follow along here.