We know 'Westworld' season 2 is going to start filming thanks to this Instagram photo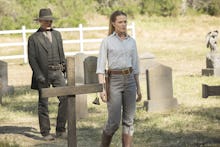 In June 2016, it was revealed that there would only be two more seasons of Game of Thrones. This news left HBO with the prospect of losing its biggest series without a surefire replacement. Well, those fears were quickly quashed when Westworld premiered to wide critical acclaim and went on to claim the most watched first season ever for an HBO series.
Unfortunately, Westworld's second season is still a ways away. Though renewed for another season, it is likely the series will not return until 2018. And while the season two premiere date is not yet known, it does look like preparations are underway for the series' highly anticipated return.
Series star Evan Rachel Wood, who plays Westworld host Dolores Abernathy, has taken to Instagram to reveal that filming will soon begin. "Corset training has started again," wrote Wood. "Which can only mean one thing. A certain TV show is starting again very soon...."
Very little is known regarding Westworld's second season, but it will likely address the aftermath of Dolores (apparently) killing Robert Ford, played by Anthony Hopkins, and the robot uprising that the Westworld founder seemed to have put in motion. It has already been revealed that one potential plot twist from the second season was scrapped due to Reddit users figuring it out.
"We're writing right now — we're terribly excited about what we're writing," series creator Jonathan Nolan told the crowd at the 34th annual Paleyfest, Deadline reported. "Reddit has already figured out the third episode twist, so we're changing that right now."
Of course Reddit users guessing Westworld's plot twists is nothing new. Many of the first season's biggest reveals were predicted by Reddit users long before they were confirmed on the series. This included Bernard actually being a host, and William and the Man in Black being the same person in different timelines.
With filming set to begin, it appears that at least some of Westworld's scripts are locked in, meaning there probably won't be any more changes should Reddit users continue to get things right.
Mic has ongoing coverage of Westworld. Please follow our main Westworld hub here.