The 11 best airport bars in America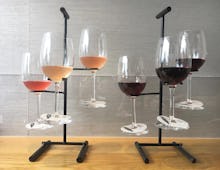 Whether you're easing the jitters before a flight or just passing time, airport bars are an essential part of a trip. But gone are the days when you'd have to resort to a cavernous, strip mall-like bar to get your hands on a cold one or a glass of vino. A new crop of high-quality bars and gastropubs around the country offer travelers a moment of peace between the security line stress and the transatlantic flights.
Which watering holes are worth heading to the airport early for? We chose these 11 standout airport bars for menu quality and diversity, local feel, excellent service and, most importantly, a calming environment.
Cask & Larder at Orlando International (MCO Terminal 2)
James Beard-nominated chefs James and Julie Petrakis opened this outpost in late 2016. The restaurant and bar elevates the busy airport's dining game with local craft beer, well-executed cocktails, farm-to-table southern fare and fresh oysters. Unwind here after a harrowing weekend at the theme park — floor-to-ceiling windows, rustic wood furnishings and a real indoor tree lend to an airy, homey vibe.
Tootsie's Orchid Lounge at Nashville International (BNA Concourse C)
If you've ever doubted Music City's party town cred, meet Tootsie's Orchid Lounge, Nashville International Airport's in-house honky tonk with live music and plenty of Tennessee whiskey. Travelers can bask in the glow of country legends while sipping a cool beer, wolfing down barbecue and getting in one final two-step before departure. Don't have time to dine? You can still grab a cold one at the Yazoo Brewing Company kiosk, which is within earshot of Tootsie Orchard Lounge's boot-stompin' tunes.
The Apothecary at John F. Kennedy International (JFK Terminal 4)
JFK has been hyperfocused on upgrading its culinary offerings lately, and so far, 2016's Five Borough Food Hall is by far the coolest addition. Modeled after a cluster of food carts, the international food bazaar serves everything from ramen to tacos. The centerpiece is the Apothecary, a narrow full-service bar stationed inside a 1966 VW Bus. Standard cocktails, wines and bottled beer line the menu here, but the real draw is the ability to mix and match snacks while you sip, not to mention the charming, hip-yet-hokey atmosphere.
Publican Tavern at Chicago-O'Hare International (ORD Terminal 3)
Located right by the security area, this bar is the perfect antidote to those notoriously long security lines. This cozy version of the Publican, an award-winning Chicago mainstay, truly sets the standard for the modern airport bar: gorgeous design, a diverse menu, knowledgeable servers and a refreshingly un-airport-like atmosphere. Diners and bar goers will enjoy thoughtfully curated Chicago beers, Midwestern wines and the same hearty upscale pub grub that put the original Publican on the map. Thick maple syrup-braised bacon, bratwurst smothered in bourbon mustard and fried shallots in gooey Emmental cheese are the cure for any layover.
Book & Bourbon Southern Kitchen at Louisville International (LRAA Main Terminal)
Louisville visitors know they'll be drinking amazing bourbon on their trip, but they might be surprised to learn that one of the city's top whiskey bars is actually inside the airport's main terminal. Circular booths, plump leather seating and walls lined with 1,700 vintage bound books set a sophisticated tone, while more than 85 whiskeys — including rarities like Pappy Van Winkle and George T. Stagg — crowd the sleek, subway-tiled bar. Add hand-picked local beers, classic cocktails and a full menu of belly-warming comfort dishes, and you've got yourself one luxurious layover.
Uncork'd at San Francisco International (SFO Terminal 3)
A welcome refuge amid SFO's constant bustle, this adorable hideaway is overflowing with stellar California booze. Wine is front and center, of course — a bounty of reds and whites sourced from around the state dominate the drinks menu. Meanwhile, beer geeks can soak up hops from award-winners like Firestone Walker and Almanac. Hungry? Pair your pinot with a pulled-pork slider or a pizza topped with salami and pepperoncini. It's not quite centrally located, but hunting down this gem is half the fun.
House Spirit Distillery's Tasting Room at Portland Airport (PDX Terminal C)
Say hello to the world's only airport distillery. Tasting Room guests have their pick of House Spirit brands, including Westward Oregon Single Malt, Volstead Vodka and Krogstad Aquavit, as well small-batch one-offs not found anywhere else. If you're in the mood for something mixed, opt for the signature cocktail flight. And in case you're looking to pick up some last-minute gifts, this bar also sells a variety of Oregon-related products, including items from Stumptown Coffee Roasters and Moonstruck Chocolate Co., and bottles of their own sweet booze.
One Flew South at Hartsfield-Jackson Atlanta International (ATL Terminal E)
One look at One Flew South's gloriously stocked back bar, with its dozens of top-shelf bottles, and you know you're not in shot-and-a-beer territory. One Flew's diverse cocktail menu includes refreshing drinks and spirit-forward tipples. Pair your booze with some food — the menu has modern American staples with a Southern flair. No matter what you order, the stress of navigating Hartsfield-Jackson's confusing concourse will melt away with each sip.
High West Saloon at Salt Lake City International (SLC Terminal 2)
If you can't make it to High West's gastro-distillery in Wanship, Utah, you can still get a taste of their hard-hitting whiskeys before your flight home. While there aren't snow-peaked mountains inside High West's airport bar, it still has a rugged-yet-cozy ambiance. Visitors can warm up their palates by tasting their way through High West's portfolio, which includes smooth-drinking bourbons and ryes with a satisfying bite. And if you're not into ordering whiskey neat, the bartenders can shake you up something special.
New Belgium Hub at Denver International (DEN Terminal B)
It's common to see regional brewpubs on your way to the gate, but not all airport brewpubs are created equal. Case in point: Denver's New Belgium Hub, which is operated by Colorado beer pros who have been brewing craft beers long before other states got hooked on local hops. Even the airport offshoot of this Fort Collins original reeks of that very same authenticity, with its taps full of noteworthy local brews and an extensive menu of updated pub fare with a Belgian twist.
Chaya at Los Angeles Airport (LAX Great Hall, Tom Bradley International Terminal)
The only sake specialist on this list, Chaya offers fresh Japanese food prepared with a touch of French elegance as well as some of the best booze options in LAX. Premium sake and seafood-friendly wine and beer complement the masterful nigiri rolls and light sashimi. And while stashing a to-go container of fish in your carry-on might not be the best way to charm your fellow passengers, five minutes of turbulence will leave you grateful you avoided that greasy, stomach-churning fast food counter.