'Cyberpunk 2077' Leaks: Hackers steal internal files from CD Projekt Red, ask for ransom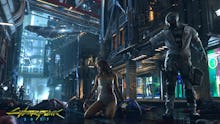 Well, this is interesting. Cyberpunk 2077 is the next game from CD Projekt Red, developers of the beloved The Witcher series. We don't know much about it other than the fact that it will be released before the end of 2021, vague as that promise may be. However, it sounds like we might see some illegally procured information about the game in the near future.
Cyberpunk 2077 Leaks: Hackers steal data, threaten to release without ransom
This news comes straight from CD Projekt Red, with the company Twitter account addressing the issue matter-of-factly in a prepared statement.
In short, someone stole internal files about Cyberpunk 2077 and asked for a ransom, lest they be publicly released. CD Projekt Red decided the leaked assets aren't worth giving a payout to some hackers and won't be complying. Legal action may or may not follow depending on how things go, but in the meantime, you should understand that any leaked materials you see represent an older, less refined version of the game than what exists now.
Video game developers usually wait until after leaks have come out before they address them, and that's only if they feel like acknowledging the leaks at all. It's a bit unusual for CD Projekt Red to get out ahead of the publication of leaked materials. Maybe this stuff is so unfit for public consumption that CD Projekt really wants you to know not to judge the game by what you see.
Based on the fact that the company released a statement, it seems like this is legit. We'll see if the data thieves decide to release what they've acquired or choose to back down. All we can say right now is this is a very appropriate thing to happen to a game called Cyberpunk 2077.
More gaming news and updates
Check out the latest from Mic, like this essay about the sinister, subtle evils lurking in rural America that Far Cry 5 shouldn't ignore. Also, be sure to read our review of Tekken 7, an article about D.Va's influence on one Overwatch player's ideas about femininity and an analysis of gaming's racist habit of darkening villains' skin tones.