Comey testified about breaking a date with his wife to dine with Trump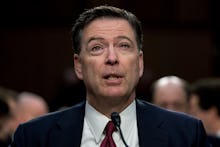 President Donald Trump claimed in an NBC News interview with Lester Holt that then-FBI Director James Comey "wanted to have dinner because he wanted to stay on."
"That dinner was arranged," Trump said. "I think he asked for the dinner. And he wanted to stay on as the FBI head. And I said I'll, you know, consider. We'll see what happens."
But in his Senate testimony Thursday, Comey told Sen. Angus King (I-Maine) that not only had he not wanted to have dinner with Trump, but that he actually had to break a date with his wife to do so.
"Did you in any way initiate that dinner?" King asked Comey.
"No," Comey said, chuckling. Trump, Comey said, had called him at his desk at lunch that day to ask him over to dinner.
"I said, 'Whatever works for you, sir,'" Comey testified. "And then I hung up and had to call my wife and break a date with her. I was supposed to take her out to dinner that night."
It was a rare moment of levity in Comey's highly anticipated appearance before the Senate — his first since being fired by Trump in May. The exchange elicited laughs in the chamber — and provided some fodder for observers on Twitter.
Trump allegedly asked for Comey's loyalty during the dinner.
"That's one of the all-time great excuses for breaking a date, I think," King said.
"In retrospect, I love spending time with my wife," Comey replied. "I wish I'd been there that night."
Navigating Trump's America is live blogging James Comey's testimony before the Senate Intelligence Committee. Follow along here.