Columbia professor Daniel Richman confirms he was the source of leaked Comey memos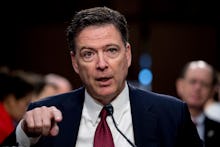 Columbia law professor Daniel Richman, a close friend and adviser to former FBI Director James Comey, confirmed in an email Thursday that he leaked the details of conversation between Comey and President Donald Trump to the press in an effort to get a special counsel appointed.
Comey, who Trump fired amid an ongoing FBI investigation into ties between members of Trump's presidential campaign and Russian officials, said during a Congressional hearing Thursday that he provided copies of memos to a "close friend" who was a professor at Columbia Law School in an attempt to get a special counsel appointed.
Comey testified that he kept detailed memos about his conversations with Trump because he was "concerned" that Trump "might lie about the nature of our meeting," he said Thursday. The former FBI director added that he decided to share the contents of the memos with the friend after Trump tweeted about having tapes about the conversations between the two men.
"I've seen the tweet about tapes," Comey said Thursday. "Lordy, I hope there are tapes."
Richman did, in fact, share the information with a reporter, which became the subject of a bombshell report in the New York Times that revealed that Trump had requested that Comey shut down an investigation into Michael Flynn, Trump's former national security adviser. After that story, the Justice Department appointed a special counsel in the Trump-Russia investigation.
Richman had been rumored to be the source of the leaks, but it had not previously been confirmed.
Richman served as a senior adviser to Comey while the latter was still serving as FBI director. According to his faculty biography, Richman formerly served as a federal prosecutor with the U.S. Attorney's Office for the Southern District of New York as a chief appellate attorney.
He also was consultant to the Department of Justice and the Department of the Treasury.
Navigating Trump's America is live blogging James Comey's testimony before the Senate Intelligence Committee. Follow along here.