Crowds pack Brooklyn drink spot to watch spectacle of James Comey's hearing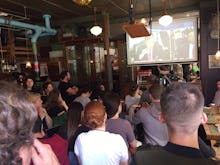 With a former Apprentice host as president of the United States, it's no surprise President Donald Trump's abrupt firing of former FBI Director James Comey has become a spectacle among the American public.
Comey's hearing before the Senate Intelligence Committee on Thursday was the latest episode in the series, with people gathering in bars and coffee shops across the country to watch him testify on his meetings with Trump regarding Russia's alleged involvement in the 2016 presidential election.
Building on Bond, a coffee shop and bar in Brooklyn, New York, hosted a viewing party to watch the 10 a.m. hearing live on a large projector screen. 
"We want to serve as a place for people in the neighborhood to come together and educate themselves," owner Phil Morgan said.
While public viewing parties for political events may seem unusual, they're nothing new for Building on Bond. The bar hosted screening events for each of the presidential debates and election returns in 2008, 2012 and 2016.
"A lot of people are saying this isn't the norm, and they're right, it's not," Morgan said. "But neither is the current situation in the White House."
Spectators for the Comey viewing started trickling in around 9 a.m., snagging the few open tables and chairs in front of the screen. 
Anna Klinger, a 36-year-old psychotherapist who lives near the bar, stopped by to "converse about the absurdity" of Comey's sudden termination.
"I figured it would be a good way to commiserate with people about this insane historical event that's going on," Klinger said. "It's better than any soap opera you could ever imagine."
The noisy bar turned silent as soon as the hearing began, only amping up for brief moments of applause and shouts of "Give 'em hell!" when Comey took the stand. Spectators were quietly glued to the screen throughout the testimony, letting out laughs and comments during peak moments — like when Comey answered "no" to a question of whether he initiated his dinner with Trump. 
As the tight corner bar continued to fill up, locals who just wanted their daily caffeine fix pushed through the crowds. A woman, unaware of the event going on, squeezed past the camera crews and journalists covering the party with a confused call of despair: "Can I still get a coffee?"
The majority of viewers sipped on coffees, teas and juices during the watch party, but a few customers opted for alcohol despite the 10 a.m. showtime. Bobby Olsen, a 30-year-old filmmaker, downed a beer. 
"The only way I can deal with what's going on in the country, I think, is to be ever-so-slightly buzzed," Olsen said. "I'm tense right now, so I think it's almost like self-medicating, just calming my nerves a bit."
Despite the frenzied circumstances of the testimony and the media craze that followed, the Comey hearing was a sign of fair government for 35-year-old entrepreneur Sam Utne.
"Even though it feels like our democracy is being challenged more than ever, we can actually see right now that it's working," Utne said. "We're seeing the checks and balances in action."